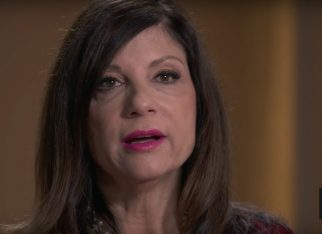 In the hours leading up to the third and final presidential debate, several media outlets are reporting that GOP presidential nominee Donald Trump is again inviting a number of guests to join him in the debate hall.  As with the last debate, viewers will likely at least recognize the names of some of the expected guests.  However, much in the same way that few people knew Kathy Shelton before the first debate, it is likely that many will be asking a similar questions tonight about expected Trump guest Leslie Millwee.
So, who is Leslie Millwee?
Well, according to a lengthy interview published by Breitbart on Wednesday morning, back in 1980 Millwee was a local television reporter (using the name Leslie Derrick) at the now defunct affiliate KLMN-TV that covered Fort Smith/Fayetteville Arkansas.  In the interview, she explained how she first began covering then-Governor Bill Clinton during the 1980 Cuban Refugee Crisis when thousands of refugees were held at the Fort Chafee military case in Arkansas.
Millwee says she interviewed Clinton dozens of times during the crisis, and began to notice how he would make "inappropriate gestures," towards her and flirtatious remarks, like "Hey pretty girl. How are you today?"
Some of the interactions occurred on the military base, while others took place back at the news station, according to Millwee.
WATCH:
Millwee says it was back at the station, in a small and isolated editing room where Clinton took it well beyond inappropriate gestures and flirting.  Millwee claims the then-governor sexually assaulted her on at least three occasions inside the small editing room.
Here is how Millwee described the first alleged assault:
"…he followed me into an editing room. The first time I remember. That it was very small. There was a chair. I was sitting in a chair. He came up behind me and started rubbing my shoulders and running his hands down toward my breasts. And I was just stunned. I froze. I asked him to stop. He laughed.

That happened on three occasions. And each time it escalated where the aggressive nature of his touch and what he was doing behind me escalated."
Millwee said she told Clinton to never do that again, but he just laughed at her.
The second alleged incident took place about a week later, according to Millwee. "He made a beeline immediately for me. I excused myself; went to the editing room."
Millwee said Clinton followed in behind her and began "hunching me to the point that he had an orgasm. He's trying to touch my breasts. And I'm just sitting there very stiffly, just waiting for him to leave me alone. And I'm asking him the whole time, 'Please do not do this. Do not touch me. Do not hunch me. I do not want this.'"
Millwee said she was unsure if Clinton's privates were out during this alleged encounter, but she thought he may have been stimulating himself  through the material of his pants.
"And he finished doing what he was doing and he walked out," she said.
She described the third alleged encounter as being "basically the same thing he did on the second time. Came in, hunched me from behind. Grabbing my shoulders, and you know, having an orgasm and then leaving."
Millwee said she was extremely upset after the third alleged incident.
"The third time it happened it was just so overwhelming. I waited a few minutes. I came out. I went into the ladies' room. I was crying and very upset. And we had a lady that had a local show there and she actually came into the bathroom. An older lady. And she said, 'Honey, what is wrong?' And I said I just had a really bad experience and I don't really want to talk about it. But I'm very upset."
Breitbart reporter Aaron Klein spoke with some of Millwee's former coworkers about Millwee's claims and additional information from this lengthy, in depth profile is available HERE. 
Have a tip we should know? [email protected]