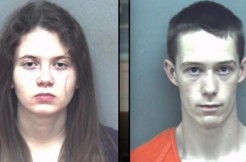 Turns out that two Virginia Tech students are accused of planning the death of a 13-year-old girl. For weeks in advance, actually.
Natalie Keepers was charged Tuesday with being an accessory before the fact, according to a report by Good Morning America. She'd already been accused of helping David Eisenhauer hide the body of 13-year-old Nicole Lovell.
Before the recent developments, Keepers had been charged for misdemeanor accessory after the fact in the commission of a felony. Now, not only do police think Eisenhauer premeditated Lovell's murder, but also that Keepers had been helping plan the killing since early January. See more from Good Morning America:
Lovell will be laid to rest Thursday. Meanwhile, Keepers is scheduled for a bail hearing Wednesday.
Still, authorities aren't charging Keepers for murder. Eisenhauer was arrested Saturday, initially for kidnapping Lovell, but he also got a charge for first-degree murder when the teen's remains were later found. Keepers was arrested soon after in connection with Lovell's death. On top of the, accessory charges, she is also accused of improper disposal of a body.
Both suspects are students at Virginia Tech, where Eisenhauer was a champion runner.
[image via GMA screengrab]
–
>> Follow Alberto Luperon on Twitter (@Alberto Luperon)
Have a tip we should know? [email protected]