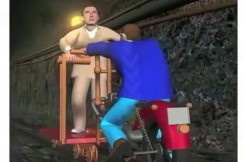 The Mexican attorney general's office just released a 19-minute video showing how they think El Chapo broke out of prison in 2015.
Joaquin "El Chapo" Guzman was once the head of the infamous Sinaloa drug cartel in Mexico. Murders, kidnappings, the organization has been accused of it all. They even moved in on filling a demand for meth. Since his first arrest by Mexican authorities in 1993, the drug lord has ping-ponged between freedom and imprisonment. The 2015 escape from a Mexican prison was his third breakout.
Six months on the run ended when Mexican commandos caught him again in January. The fallout has been a hot mess. Short version: The authorities might have found Guzman because of an interview he had with actor Sean Penn. He reportedly only agreed to it because of actress Kate Del Castillo, who is being investigated for  laundering money for the drug lord.
Safe to say, many Mexican authorities probably hate Guzman. In any case, the just-released video details how he escaped through a tunnel, and how they caught him again.
Jump to 6:50 if you want to see an animated rendition of the escape.
All in all, the video is a neat little documentary. Lots of details. A good watch for anybody interested in Guzman's fall. In the end, you'll get to see him processed once again. Mugshot, fingerprints, so on.
The drug lord's problems might continue. The United States wants a piece of him, and has filed an extradition request so he can face charges here. Murder, kidnapping, etc. At least seven U.S. federal districts have indicted him, and he was named Public Enemy Number One by the Chicago Crime Commission in 2013.
[image via screengrab]
–
>> Follow Alberto Luperon on Twitter (@Alberto Luperon)
Have a tip we should know? [email protected]