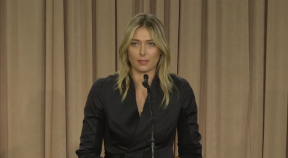 Tennis star Maria Sharapova announced today that she has tested positive for meldonium—a banned substance—according to the International Tennis Federation.
"I take great responsibility in my job every day and I made a huge mistake and I let my fans down and let the sport down that I've been playing since age 4 and that I love so deeply," Sharapova said at a press conference in Downtown Los Angeles.
Sharapova, who has five Grand Slam singles titles, including one at each of the four majors—the Australian Open, the French Open, Wimbledon and the U.S. Open—apparently tested positive at the Australian Open in January, where she was a Quarter Finalist.
The headline is a bit more juicy than its contents. Sharapova has been taking the drug meldonium, prescribed by family doctors, for 10 years to address a number of health issues, including a reoccurring bout of the flu, irregular EKGs and evidence of diabetes, which runs in her family.
Meldonium was added to the World Anti-Doping Agency's list of banned substances for 2016 on January 1. While the Russian superstar said she received that list of new banned items on Dec. 22, she was negligent in reviewing the list and continued taking the medicine. The International Tennis Federation has not yet determined the length of Sharapova's suspension as the two sides work through the adjudication process.
"I know with this that I face consequences," she said. "I don't want to end my career this way, and I really hope I'm given another chance to play this game."
Rumors swirled that Sharapova was going to announce her retirement as two-time Super Bowl wining Quarterback and five-time NFL MVP Peyton Manning bid a teary farewell to his football career this afternoon.
Addressing rampant speculation of her retirement, Sharapova humorously remarked, "If I was going to announce my retirement, it wouldn't be in a downtown Los Angeles hotel with this fairly ugly carpet."
The 28-year-old marketer's dream has been the highest paid female athlete in the world for 11 straight years—yes, that means more than Serena Williams. Her annual prize money is dwarfed by her partnerships with Nike, Head, Avon Products, Evian, Porsche and Tag Heuer.
You can watch Sharapova's full press conference from Monday below.
[h/t NewYorkTimes]
[Screengrab via ESPN]
Have a tip we should know? [email protected]