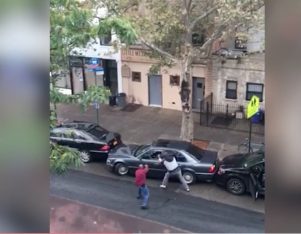 A bystander in Brooklyn captured a dramatic cellphone video showing the arrest of suspect involved in a police shooting on Tuesday morning.
CBS New York reports the incident unfolded around 8:45 a.m. in the Bedford-Stuyvesant neighborhood in Brooklyn. Plainclothes NYPD officers were out on Tuesday morning looking for a 36-year-old man who was apparently wanted on an outstanding warrant for assault.
WATCH:
NYPD Chief of Patrol Terence Monahan later described to reporters what went down.
As one detective approached the front window of the vehicle, the wanted subject, identified as Jayvon Shipman, a male, 36-years-old, accelerated, and mounted the sidewalk in the direction of the detective.  His partner, a plain-clothes police officer, fired one round at the subject as he was driving forward.
Monahan said the suspect drove about ten blocks before officers were able to pin in his vehicle on the side of the road.
A bystander in a building overlooking the scene then captured the remainder of the incident on cellphone video.  Officers can be seen surrounding the vehicle and attempting to break out the windows as the Shipman tries to squeeze his vehicle free.  Officers soon got the upper hand and pulled him from the vehicle.  During the confrontation Shipman shouted, "You shot me in my f—ing arm."
The New York Daily News reports witnesses said Shipman's shirt was drenched in blood as he sat in the street in handcuffs after he was pulled from the car.  He was taken to a local hospital with non life threatening injuries and charges are pending.  Police told reporters Shipman had previously been arrested 21 times.   He also served two sentences in state prison on separate robbery convictions.
Have a tip we should know? [email protected]