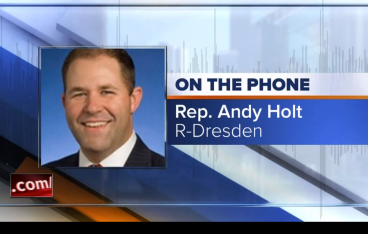 Tennessee State Rep. Andy Holt planned to offer a special door prize at fundraiser scheduled to take place this month — an AR-15 rifle.  His decision largely flew under the radar until Sunday's terror attack in Orlando where the shooter used a rifle that looks similar to an AR-15.  When critics pounced and the story quickly gained national attention, Rep. Holt announced he would give away a second AR-15 at the fundraiser.  On Tuesday, Rep. Holt told reporters his office had received multiple threatening phone calls over his decision to go forward with the planned giveaway.
Rep. Holt explained his reasoning for the giveaway in an interview with local CBS affiliate WTVF.
"We're going to give away an AR-15 because guess what? It doesn't have anything to do with the weapon, it has everything to do with the person who's behind that weapon pulling the trigger," Rep. Holt said in a phone call with WTVF.
According to the Associated Press, Tennessee State Democratic Party Chair Mary Mancini released a statement the criticized Holt's decision as reckless.
"Responsible gun owners don't put guns in the hands of strangers," Mancini said in her statement. "Andy Holt doesn't know if he's putting the winning raffle ticket in the hands of the next mass shooter."
WATCH:

Holt, however, continues to refuse to back down and told WTVF he is giving away the gun as a "celebration of the Second Amendment."  He added, that the right to keep and bear arms is "the only force by which we could have prevented further casualty from occurring in Orlando, and in most of the other situations where we see that mass murders have occurred."
As for the threatening phone calls, Rep. Holt said staffers informed him that his office received several anonymous calls from an individual who claimed to be armed and on the lookout for Rep. Holt.  According to the report, Holt said threatening e-mails, phone calls and even text massages were becoming a "fairly regular occurrence."  While none have followed through and confronted him in person, Rep. Holt said he is "prepared" if they do.
The most recent threatening phone calls were recorded and forwarded to the Tennessee Highway Patrol's Capitol Security Unit for further investigation.
Have a tip we should know? [email protected]