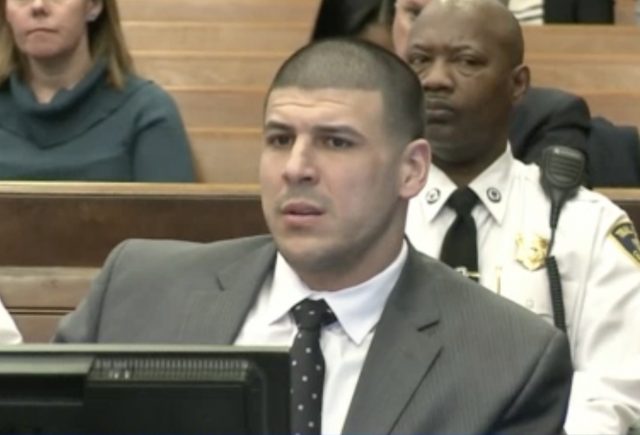 The prosecution's star witness, Alexander Bradley, completed his testimony on Thursday in the trial of former NFL star Aaron Hernandez.  The former New England Patriots Tight End is accused of killing Daniel de Abreu and Safir Furtado on July 16, 2012 outside a nightclub after prosecutors say he became angry over a spilled drink.
Prosecutors say Bradley was driving Hernandez's SUV on the night of the murders and he is the first witness to testify Hernandez pulled the trigger that night.  He has testified at the trial under an immunity agreement from the prosecution.  He is currently serving time for shooting up a Hartford nightclub in 2014.
The defense went after Bradley again Thursday, continuing its cross-examination and at one point stressing to the defense that he "was not perjuring himself" on the stand.
It was yet another tense, highly emotional exchange between defense attorney Jose Baez and Bradley during his lengthly cross-examination.
This particular exchange that wrapped up Bradley's three-plus days of testimony was centered on a text message Bradley sent to his attorney regarding his upcoming grand jury testimony in the case over Bradley allegedly being shot in the face by Hernandez to keep him quiet about the 2012 murders, according to prosecutors.
Baez pointed out one text message in which Bradley seemed to worry about possible perjury charges if he testified before the grand jury that he was not "able to recall anything about who shot me."  He then asked Bradley if he deleted that message before surrendering his phone to police, but Bradley denied deleting that message or any others.
"For the fourth time, I don't recall what calls or messages I have or have not deleted," Bradley testified, somewhat angrily.
Booke Wilcox, the mother of Bradley's child, then took the stand and provided some dramatic testimony about the night of the murders.  For example, she testified Bradley was in her bed about two hours after the shootings and said, "this crazy mother [expletive] [Hernandez] just did some stupid [expletive]."
She also testified about learning that Bradley had been shot, saying Hernandez was the one who called to inform her of the shooting.
After Bradley left the hospital, Wilcox said he confided in her that Hernandez fired the fatal shot in July 2012 and that he [Bradley] was driving the SUV.
Wilcox's cross-examination, however, did not go so smoothly.  She was forced to admit to accepting large sums of money from Bradley in the past and the defense suggested that she would cover for him, maybe because she was afraid of him.
She denied it, and the defense's claim that she concocted a story with Bradley to protect him after the murders.
Hernandez has pleaded not guilty to all counts in the 2012 killings.
The former football star is already sentenced to life without the possibility of parole when he was convicted nearly two years ago in another murder of semi-pro football player Odin Lloyd.  That case is on appeal.
The trial is in recess on Friday due to an illness impacting Baez and others in the courthouse.  Testimony will resume Monday.
[image via screengrab]
Have a tip we should know? [email protected]