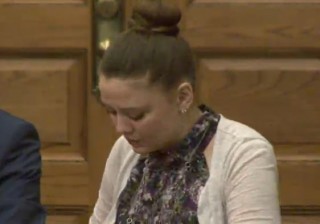 The defense rested their case first thing Tuesday morning in the murder trial of Colleen McKernan, who is charged with killing her husband Rob. The prosecution then called witnesses as rebuttal evidence against McKernan, who claims that she shot her husband in self-defense on New Year's Eve 2014.
The theme for the day was to cast doubt over the defense's version of events, not just of that night, but of the McKernans' whole relationship. Defense experts had previously testified saying that McKernan may have suffered from battered woman's syndrome, due to past abuse from her husband. One witness said it was possible that McKernan was in a dissociative state when she pulled the trigger. Colleen McKernan herself described past abuse, and sobbed on the stand while giving her account of the encounter that led to the shooting.
Tuesday's first witness was Rob's mother, Kathleen McKernan, and she dropped a bomb on the court. She said that at one point, Colleen told her that Rob had abused her, saying, "If he ever lays his hands on me again, I will shoot, and I will shoot to kill him."
The defense, however, brought up that Kathleen McKernan spoke to Det. Gohlike during the investigation of Rob's death. Kathleen admitted that she didn't mention this conversation with Colleen to the detective. Additionally, when Det. Gohlike asked if she was aware of any prior domestic incidents between Rob and Colleen, she said no. Kathleen McKernan said that she was confused at the time, thinking that the detective was referring to court proceedings, not incidents of abuse.
Later in the day, the prosecution called up a neighbor of the McKernans', who stated that Colleen once came to her saying that Rob was abusing her. She told the court that McKernan was "whining" without tears, as if she was trying to appear like she was crying. The defense objected to this characterization, and Judge Chryssa Hartnett sustained, but the jury already heard the words, which went in line with prosecutor Dennis Barr's accusatory questioning of McKernan's emotions on Monday.
Lastly, clinical psychologist Dr. James Karpawich testified regarding McKernan's mental state. He downplayed her accounts of past abuse, almost dismissing them by saying "that's what she said," or otherwise qualifying accounts by saying they were merely her words, implying that they may not be true. He also went after the defense's expert testimony regarding battered woman's syndrome and dissociative states.
Dr. Karpawich said that McKernan did not exhibit classic signs such as depression or crying when he evaluated her. He also said that there was no indication that she had stayed with Rob out of fear of harm. This was meant to poke a hole in the theory that she suffered from battered woman's syndrome. Dr. Karpawich also spoke against the idea that McKernan was in a dissociative state at the time of the shooting. Despite this, however, he told the defense that women who do suffer from battered woman's syndrome can suffer from hypervigilance, which would cause them to be on edge, even leading to preemptively striking their abuser.
Closing arguments are expected to take place Wednesday morning, followed by jury instructions. LawNewz.com will be streaming it live.
Stay with LawNewz.com for continuing coverage and legal analysis of the trial.
Have a tip we should know? [email protected]