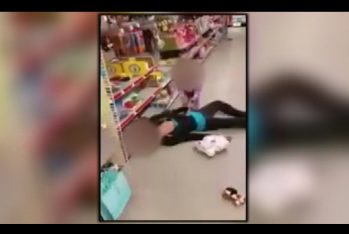 Another police department has released heartbreaking footage of an apparent heroin overdose in the presence of a young child.
Police in Massachusetts released video showing the alleged overdose of a Salem, New Hampshire woman in the toy aisle of a Family Dollar store.  Police acknowledged the video is very difficult to watch but are hopeful it will help raise awareness about the dangers of drug abuse.
WATCH:
According to police, a store employee recorded the incident last Sunday after seeing the woman passed out in the aisle.  The 36-year-old woman's two-year-old child can be seen screaming for her mother to wake up.
First responders who arrived on scene reportedly provided the woman with two doses of Narcan in order to save her life.   Narcan is a very fast acting drug that counteracts the effects of opiates such as heroin.
The woman is not expected to face drug charges, but police say she will face child-endangerment charges.  The two-year-old girl was placed in protective custody with the Department of Children and Families.
Have a tip we should know? [email protected]