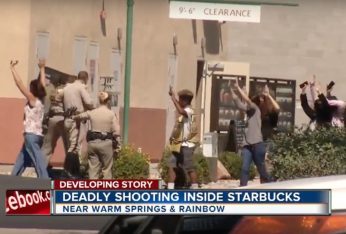 A 34-year-old man is custody on charges stemming from a shooting on Sunday inside a Las Vegas Starbucks.  Las Vegas police say Pedro Garcia became upset after his credit card was declined in the drive-thru line so he went inside the coffee shop and engaged in a confrontation during which a customer was shot and killed.
KTNV reports the incident occurred around 11:30 a.m. on Sunday morning after Las Vegas police received several conflicting 911 calls about a shooting incident at a local Starbucks.  After further investigation, police say they have determined Garcia initially went through the drive-thru line where his credit card payment was declined.  Garcia then allegedly entered the store in an agitated state with a gun and fired two shots at the ceiling and then one shot at another customer.
WATCH:
Reports indicate the first police to respond to the scene were somewhat confused as the result of conflicting information that was given to 911 dispatchers from callers inside the Starbucks. Subsequent investigation would reveal the alleged shooter, Garcia, was one of several individuals who called 911 to "report" the shooting.  Police say Garcia intentionally tried to throw officers off by providing misleading information about the incident.
The first responding officers initially believed they were dealing with a hostage situation and a barricaded suspect, so they did not attempt to enter the building. Police say Garcia left his weapon inside and attempted to escape as other customers began exiting the building.  Witnesses apparently pointed him out to police and he was captured before he could make a getaway.
The decision to not enter the building reportedly caused a delay in getting medical support to the victim, who later died at a Las Vegas hospital.  Police do not believe the victim knew Garcia prior to the incident.
Garcia was arrested on charges of open murder, robbery, burglary while in possession of a gun and discharging a gun into an occupied structure.  He reportedly has an extensive criminal history, including affiliation with a gang.
Have a tip we should know? [email protected]