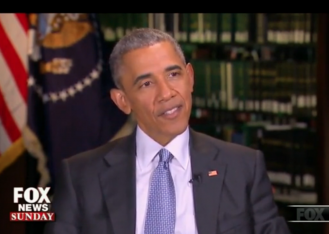 President Barack Obama appeared on Fox News Sunday with Chris Wallace for an interview on a wide range of topics, including the looming FBI investigation into Hillary Clinton's use of a private e-mail server.  President Obama gave his most detailed responses to date about the matter, standing by his previous statement that Clinton did not endanger national security, but also recognizing a "carelessness" in the decision to use the private e-mail server.
Wallace started by asking President Obama about the remarks he made to Steve Kroft last fall on 60 Minutes where he said he was confident Clinton's use of private e-mail did not endanger the national security of the United States. Wallace noted that since that interview in October, we have discovered that Clinton's e-mail server contained over 2,000 e-mails contained classified information, including 22 classified as "Top Secret."
President Obama showed much more caution in his response to the line of questioning this time, telling Wallace that he needed to "be careful" because of the ongoing investigations into the matter.  He is also said that he was confident "[s]he would never intentionally put America in any kind of jeopardy."
Wallace then pressed Obama to answer whether he stood by his prior remarks that she did not endanger national security with her e-mail arrangement.
"I continue to believe she has not jeopardized America's national security," President Obama said, but then added he added a caveat.
"Now what I've also said — and she has acknowledged — is there is a carelessness in terms of managing emails that she has owned and she recognizes."
Wallace then mentioned the concern of some, on both sides of the aisle, that political influence may affect the outcome of the FBI and DOJ investigation into the matter.  However, President Obama flat out dismissed the notion.
"I can guarantee [there will be no political interference] and I can guaranteed that not because I give Attorney General Lynch a directive — that is institutionally how we have always operated.  I do not talk to the Attorney General about pending investigations.  I do not talk to FBI director about pending investigations.  We have a strict line and always have maintained it during my presidency."
Obama then reiterated, "I guarantee that there is no political influence in any investigation conducted by the Justice Dept or the FBI, not just in this case but in any case.  Full stop, period.  Guaranteed, full stop.  Nobody gets treated differently when it comes to the Justice Dept. because nobody is above the law."
"Even if she ends up as the Democratic nominee?" asked Wallace.
"How many times do I have to say it, Chris?  Guaranteed," Obama concluded.
[h/t Fox News; image via screengrab]
Have a tip we should know? [email protected]