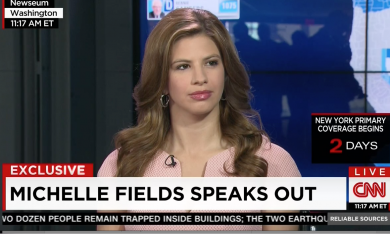 Former Breitbart News reporter Michelle Fields gave her first television interview since Palm Beach County State's Attorney David Aronberg announced that he would not proceed with criminal charges  against Trump campaign manager Corey Lewandowski over allegations that he committed battery by grabbing Fields after a press conference last month.
"You know, I think the prosecutor's decision, the way that they handled the entire situation was very unprofessional," Fields told CNN's Brian Stelter.  Fields went on to reject the notion that she did anything wrong by entering the "protective bubble" area set up by the Secret Service around Donald Trump.  At the press conference earlier this week, Aronberg cited Field's presence inside the "protective bubble" as one of the reasons why he would not proceed with charges in this case.
When asked to clarify if she felt the case was handled fairly, Fields said he did not agree with the decision and that "a lot of it is just really weird."  Fields then said that Aronberg and his wife are too close with Trump and suggested that he should've recused himself from the case.
You looks at the prosector's and his wife's social media, they are at Mar-A-Lago — Donald Trump's resort — all of the time.  You look at the prosecutor's wife, who owns a PR firm, you look at the PR firm's website and she talks about why you should work with her PR firm because she has lots of good working relationships.  And the first picture is her and Donald Trump and Melania Trump.

…

If I was a prosecutor and my wife was trying to monetize her relationship with Donald Trump, and its right there on her website, and Im partying all of the time at Mar-A-Lago, I would recuse myself from the case.
WATCH:
A quick review of Lynn Aronberg's PR firm website reveals that she is pictured with Donald and Melania Trump on the homepage.  However, it is also important to note that David Aronberg is a prominent Hillary Clinton supporter and questions were raised about how that association might impact the case as well.
Fields also did not rule out filing a defamation lawsuit against Trump and Lewandowksi for "smearing" her.
"I'm not going to rule it out.  Do I think they defamed me?  Absolutely," Fields said.  She also noted that the "contradictions" in the Trump campaign messaging after the incident reflects "actual malice" which is an important element in a defamation lawsuit.
However, as LawNewz.com has previously reported, Fields would almost certainly lose a defamation lawsuit based on the facts of this case.  Additionally, Fox News host Greta Van Sustern also suggested that Fields would be better off not filing a civil lawsuit related to this incident, only to have Fields dismiss her well reasoned advice and refer to her as a "Trump shill."
[image via screengrab]
Have a tip we should know? [email protected]