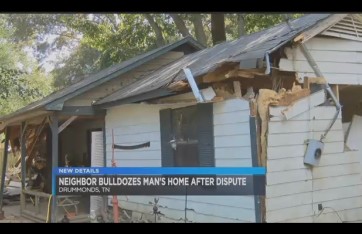 Investigators with the Tipton County Sheriff's Department in Tennessee say a dispute between neighbors over Labor Day Weekend led to gunshots and one man's home being bulldozed by a large piece of heavy machinery.
WMC Action News 5 reports the incident began on Friday night when deputies say they received calls about a man identified as John Higdon who was allegedly firing multiple gunshots out into the woods.   When deputies arrived on scene, they say Higdon told them he was firing shots at men who were dressed in camouflage ghillie suits who were prowling on his property.  Higdon had apparently also called deputies himself earlier in the week to report his "neighbor's employees" were shining lights into his home at night.
Deputies say they found no evidence of men prowling around they property, so they left the scene.  When they were called out again about reports of shots being fired into the woods a few hours later, this time they arrested Higdon on reckless endangerment charges.
WATCH:
WMC Action News 5 – Memphis, Tennessee
While Higdon was still in jail on the reckless endangerment charges, deputies received another report about an alleged incident ongoing at the property.  This time a man called to tell investigators he could see Higdon's house being bulldozed over by a man driving a piece of heavy equipment that was orange in color.
Deputies arrived on scene and say they discovered an orange backhoe parked at Higdon's neighbor's home with debris still stuck in the machinery.  The neighbor was identified Edgar Dallas McLellan, 57, and he was arrested on charges of aggravated criminal trespassing and felony vandalism.  Deputies say McLellan is the same neighbor who Higdon was involved in the dispute with earlier in the week.
A WMC Action News 5 interviewed Higdon's brother who told the reporter he does not know what happened, but he does not believe the sheriff's story of some sort of ongoing dispute between the neighbors.
"I ain't never seen nobody get liquored up and go threw somebody's house down," the brother said. "This man over here decides to come over here at 2 o'clock in the morning with a [bull]dozer, a tractor, and starts pushing the house down…. He run the tractor through both bedrooms where the bed sits."
He added that he just wants answers and for McLellan to pay for the damage.  For the time being, the brothers (John is now out on bail) are living in trailer parked next to the home.
In a Facebook statement issued on Tuesday, Sheriff J.T. "Pancho" Chumley said both men are now out of jail after posting bond, but the investigation is still ongoing and he expects additional charges will be filed.
He added, "I am thankful that no one was injured by either of the men arrested in this neighbor's dispute."
Have a tip we should know? [email protected]