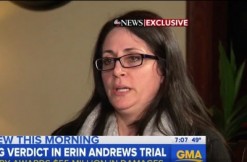 Jurors backed sportscaster Erin Andrews Monday in her lawsuit against a stalker and the Nashville Marriott over a 2008 nude tape.
"The hotel industry, we just felt like they needed to get the message," Tami Kump, a juror, told ABC News. "This is somebody's privacy, their personal life, and you got to take that seriously." $55 million dollars. That's how much Andrews is expected to get. Though she originally sought $75 million, it's still one of the largest verdicts awarded in Tennessee in the last 10 years.
The stalker, this guy named Michael Barrett, surreptitiously recorded Andrews through a peephole leading into her room at the Nashville Marriott. That footage was later posted to the Internet, where it was viewed millions of times. So he'll be responsible for 51 percent of the award on top of already having served 30-months for this crime. Windsor Group, the Marriott's owner, has to deal with the 49 percent since Andrews successfully argued they should've done a better job protecting her privacy. In any case, lawyers for the hotel told Good Morning America peephole covers were installed to make sure this kind of trash doesn't happen again.
"We're disappointed with the outcome," defense attorney Marc Dedman told Reuters. He said his clients will be mulling over whether to file an appeal. Jurors will be consulted before they make that decision, though, according to Good Morning America.
And they probably wouldn't win even if they did. LawNewz founder Dan Abrams told Good Morning America Andrews' win is huge.
"This was a huge win for Erin Andrews," said Abrams. "Not just in number, but in terms of the way the verdict came down." The 51/49 split ensures the actual money won will be substantial since the hotel would cover a huge portion. Makes sense. Barrett is an ex-con. He's probably not flashing stacks of cash.
Abrams said "That's about as good a verdict as she could split," though he had a small caveat. The judge still has to review the verdict, and has the power to reduce it even before an appeal is filed. But any reduction is likely to be small, and the verdict will probably stand, Abrams said.
[image of Kump via ABC screengrab]
–
Follow Alberto Luperon on Twitter (@Alberto Luperon)
Have a tip we should know? [email protected]