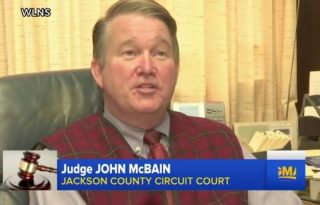 Yesterday, we reported on Michigan Judge John McBain, who got up from behind the bench and tackled an unruly defendant in the middle of his courtroom. Jacob Larson, who was in court for allegedly stalking a woman and violating an order of protection, wouldn't keep his mouth shut, mouthing off to the judge. McBain threatened to send Larson to jail for a year if he didn't keep quiet, but that didn't work. Larson then struggled with a court officer who tried to handcuff him, at which point, McBain sprang into action, taking Larson down, while yelling to the officer to "Tase his ass!"
On Friday, Judge McBain discussed the incident on 'Good Morning America,' defending his actions.
"I certainly don't regret doing that," Judge McBain said. "If my court officer is in trouble, I'm going to go down there and do what I can."
Order in the court, indeed.
David Bixenspan contributed to this report.
[Image via screengrab]
Have a tip we should know? [email protected]