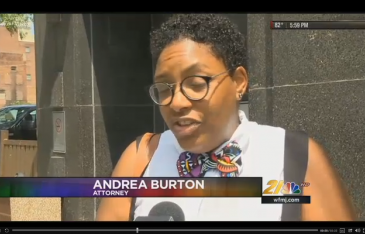 An attorney was held in contempt and sentenced to five days in jail after she refused to remove her Black Lives Matter lapel pin during an appearance in an Ohio municipal courtroom on Friday.
WKBN reports Youngstown Municipal Court Judge Robert Milich ordered attorney Andrea Burton to remove her Black Lives Matter lapel pin while appearing in his courtroom.  When Burton refused to remove the pin, Judge Milich found her in contempt of court and sentenced her to five days in jail.  Courtroom security cameras captured the moment she was initially taken into custody by the courtroom bailiff.
WATCH:
The Youngstown NAACP has reportedly reached out to the national office for assistance in determining whether Judge Milich violated Burton's civil rights. Kim Akins, an attorney and community activist, also expressed concern over the ruling, stating that no attorney would be asked to remove an American flag lapel pin.
Judge Milich defended his actions, telling the news station in an interview that he asked her to remove the pin because he does not allow attorneys to make political statements in the courtroom.
"A judge doesn't support either side," Judge Milich said. "A judge is objective and tries to make sure everyone has an opportunity to have a fair hearing, and it was a situation where it was just in violation of the law."
He added, There's a difference between "a flag [or] a pin from your church … and having a pin that's on a political issue."
Judge Milich has stayed the imposition of the jail sentence and Burton is currently free, pending her appeal.
The news station reached out to two legal analysts who seemed to indicate that Judge Milich's decision will likely stand on appeal.
"The judge has the right in any circumstance that they think that some issue or matter will be disruptive to the court or a distraction to the court, they can ask that individual to remove that object," local attorney Matt Mangino said.
Mike Brickner, a senior policy director with the Ohio ACLU also agreed that judges have wide discretion in setting limits on what can be worn in their courtroom.  Brickner told the news station that he did not know enough about the specific details of this case, but generally speaking, similar restrictions prohibiting the wearing of political messages in court have been upheld.  The test is whether the restriction is reasonable and fairly applied.
Have a tip we should know? [email protected]