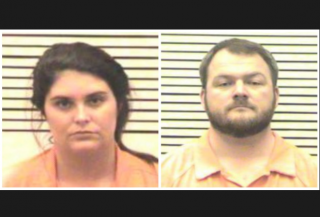 A story of a teacher being accused of having sex with a student seems to happen with such frequency of late that it may no longer come as a shock to some people when they hear that an Alabama teacher was arrested on Wednesday for having sex with a student.  However, what makes this case unique is that his wife, also a teacher at the same school, was arrested two days earlier on the same charge.
James "Jamie" Franklin Parker, 32, was arrested on Wednesday and charged with having sex with a student under the age of 19.  His wife, Charli Jones Parker, 30, was arrested and charged with the same crime just two days earlier. The Parkers both teach and coach sports at Pickens Academy, a small private school in Pickens County, AL.
Local news reports indicate that Jaime Parker's alleged victim is a former student at the school. While newly released court records show Charli Parker is accused of having sex with a male student at least 11 times over the course of the last two years, including incidents at a cemetery and in her own home. The most recent incident involving Charli Parker is alleged to have occurred in the past few weeks.
According to Pickens County District Attorney Chris McCool, the arrests are the result of an ongoing investigation by the Pickens County Sheriff's Department.  Additional charges are expected to be filed against Jaime Parker later today.
WATCH:
In a statement to local reporters, McCool stressed that none of the alleged criminal activity took place on school grounds.  He also explained that the circumstances surrounding the incidents involving both of the alleged Parker victims were different.
"The incidents involving the husband and wife are separate and unrelated in place and manner of commission," said McCool.
Pickens Academy Headmaster Brach White issued the following statement:
"The safety and well-being of our students is and always will be our top priority. We are obviously shocked and dismayed by this allegation and will be working to support all of our students and families in coping with this news. The employee will be suspended immediately and further action may be taken upon investigation. Unfortunately, these events have been a distraction from the many great things that take place at Pickens Academy. I request continued prayers for our school family and for all those involved."
The charge of school employee having sex with a student under the age of 19 is a Class B felony, punishable by up to 20-years in prison.
[h/t NBC4i; image via Pickens County Sheriff's Department]
Have a tip we should know? [email protected]