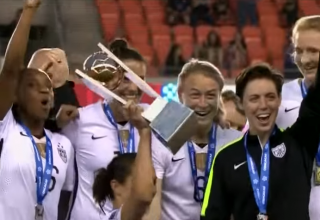 Five members of the U.S. Women's National Soccer Team filed a complaint with the Equal Employment Opportunity Commission on behalf of their team on Thursday. The players, Carli Lloyd, Alex Morgan, Megan Rapinoe, Becky Sauerbrunn, and Hope Solo are claiming discrimination because the U.S. Soccer Federation does not pay them as much as the men's team.
Their attorney, Jeffrey Kessler, says that not only is their work the same as the men's, they outperform them. "The U.S. Soccer Federation made a profit of $16 million on the women's team last year. It had a loss on men's team." The women's team won the World Cup in 2015, and their match against Japan in the finals had the highest U.S. ratings of any soccer game — men's or women's — ever. Contrast that with the men's team, who came in 11th place in last year's World Cup.
Kessler said that despite this, the women make between 28% and 62% less than their male counterparts, depending on the match, CNN reported. The women's team earned $2 million when they won the World Cup in 2015, while the year before, the man made $9 million for losing in the round of 16.
"We have been quite patient over the years with the belief that the Federation would do the right thing and compensate us fairly," Lloyd said in a statement.
According to the New York Times, this is just the latest conflict between U.S. Soccer and the women's team. They have complained about inferior pay and traveling conditions in the past, the team canceled an exhibition match last summer due to an artificial field surface that they felt was unsafe, and U.S. Soccer sued the team's player's union last year over a collective bargaining dispute.
After the EEOC investigates the complaint, if they side with the players, their next step will likely be to try to come to an agreement with U.S. Soccer. If that doesn't work, they can file an enforcement action.
[h/t CNN, screengrab via NBC]
Have a tip we should know? [email protected]