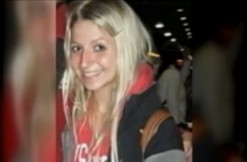 FBI and local police raided an Indiana home Thursday, trying to find missing Lauren Spierer.
That property, including a barn, used to belong to Justin Wagers, 35. This guy is now in jail, accused of stalking and exposing himself to women. Still, it remains publicly unclear how he fits into Spierer's disappearance, according to a report by NBC New York.
Spierer, a 20-year-old student of Indiana University, went missing June 3, 2011 from Bloomington, Indiana, after a night partying with friends. Her keys and purses turned up near a buddy's apartment, while she apparently left her cell phone and shoes at a bar. The last person to see her was a friend, at about 4:30 am. Spierer was reportedly headed to her own apartment.
No one has been charged in the cold case. But, Spierer's parents have sued two men, Jason Rosenbaum and Corey Rossman, over their daughter's disappearance. They say these guys, then students of Indiana University, were negligent, giving Spierer drinks when she was already intoxicated. Rosenbaum's and Rossman's attorneys insist their clients weren't responsible for the safety of another adult, according to NBC New York.
In the meantime, it has only been a day since the raid, and the investigation is ongoing.
[h/t NBC New York]
–
>> Follow Alberto Luperon on Twitter (@Alberto Luperon)
Have a tip we should know? [email protected]