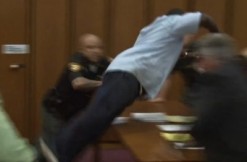 Fact: Michael Madison is a murderer. No "allegedly" here. He was convicted in May for killing three women, and finally had his sentencing hearing on Thursday at a Cleveland, Ohio courtroom. He might have expected the death penalty, which the judge, in fact, handed down. But he probably didn't expect the father of one of his victims to try and beat him up.
In video obtained by Cleveland.com, father Van Terry can be seen speaking to Judge Nancy R. McDonnell behind a podium.
"I guess we're supposed to, in our hearts, forgive this clown," he said. After a brief statement, Terry turned around, looked dead at Madison, then ran right at him, leaping over the defense attorney's table.
Bailiffs stopped him. Terry and another man involved in the scuffle were removed from the courtroom, Cleveland.com reports.
18-year-old Shirellda Terry was the last of the confirmed victims. Madison was also convicted for killing 38-year-old Angela Deskins, and 28-year-old Shetisha Sheeley, WKYC reports. For those crimes, the judge sentenced him to die by lethal injection. Madison will also get jail time for various other charges, including kidnapping, rape, having weapons under disability, and gross abuse of a corpse.
–
Follow Alberto Luperon on Twitter (@Alberto Luperon)
Have a tip we should know? [email protected]