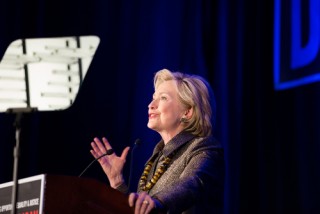 Bernie Sanders' spokesperson and other supporters have made repeated calls for Hillary Clinton to release information about her paid speeches at big Wall Street banks. They want to see her contracts and her transcripts. Clinton critics claim the speeches are evidence the presidential hopeful is cozy with rich bankers on Wall Street.
Clinton reportedly received $225,000 for her appearances at a 2013 Goldman Sachs Summit in Arizona.  In fact, disclosure documents show she was paid a total of $675,000 for just three speeches at the bank.  When asked by CNN's Anderson Cooper last week why she took the money, Clinton responded rather awkwardly: "Well, I don't know. That's what they offered." Overall, the Clinton camp has remained relatively mum about the speeches.  And, here's the legal reality: Clinton may be barred from releasing much of anything.
In fact, we may never know what Clinton said, who exactly she spoke to, and what her speaking contracts entailed. That's because industry insiders tell LawNewz.com that high profile speakers are often saddled with non-disclosure and confidentiality agreements when they talk to big corporations. Meaning, they can't talk about what happened when they leave. We don't know for sure if Clinton signed one, but experts tell us it's pretty standard.
"I do know from our work that big banks have confidentiality/NDA agreements with all of their vendors (and employees) which prevent them from voluntarily revealing any details about their engagements," Mike Delikat, a partner at Orrick, Herrington & Sutcliffe told LawNewz.com.
Darren Kavinoky, an attorney, who is also a keynote speaker told LawNewz.com that he's also been asked to sign similar agreements.
"Bernie should know, or anyone in this world shoud know, that it wouldn't be just up to Clinton to release information about the speeches.  It wouldn't be an option that she has. What we are seeing here is politics," Kavinoky said.  He explained that the agreements are meant to prevent speakers from revealing trade secrets or details about the corporation. Goldman Sachs and the Harry Walker Agency, which represented Clinton for speaking engagements,  did not return our emails for this story.
"It is standard contractual language that significantly curtails the freedom of both sides (Hillary and Goldman) from just spreading what was discussed, and who heard it. Much of that is routinely held private, for a variety of reasons," Kavinoky said.
Here are some examples of standard confidentiality agreements for corporate speeches:
CONFIDENTIALITY: The parties agree to hold in confidence and not possess, use or disclose any Proprietary Information as it relates to Speaker's honorarium fee and/or specific deal points, of this agreement.

CONFIDENTIAL AND PROPRIETARY INFORMATION:  Speaker and Speaker's employees, agents, or representatives shall not, at any time or in any manner, either directly or indirectly, use for personal benefit, divulge, disclose, or communicate in any manner any information that is proprietary to or that should reasonably be considered to be confidential by producer of event and its employees, members or agents. Speaker and Speaker's representatives will protect such information and treat it as strictly confidential. This provision shall survive any termination or expiration of this Agreement.  Any intellectual property owned by Speaker belongs exclusively to Speaker.
"There is nothing sinister about silence here. It is standard operating procedure, especially at this level," Kavinoky said.
So while there certainly may be a legitimate policy argument that the public should know more about the speeches, Clinton may be barred legally from ever telling us more.
[image via Shutterstock]
Have a tip we should know? [email protected]
Rachel Stockman - President / On Air Host