Well it's been five days, and the Portland Police Department still hasn't removed this horrifyingly misguided tweet from its account.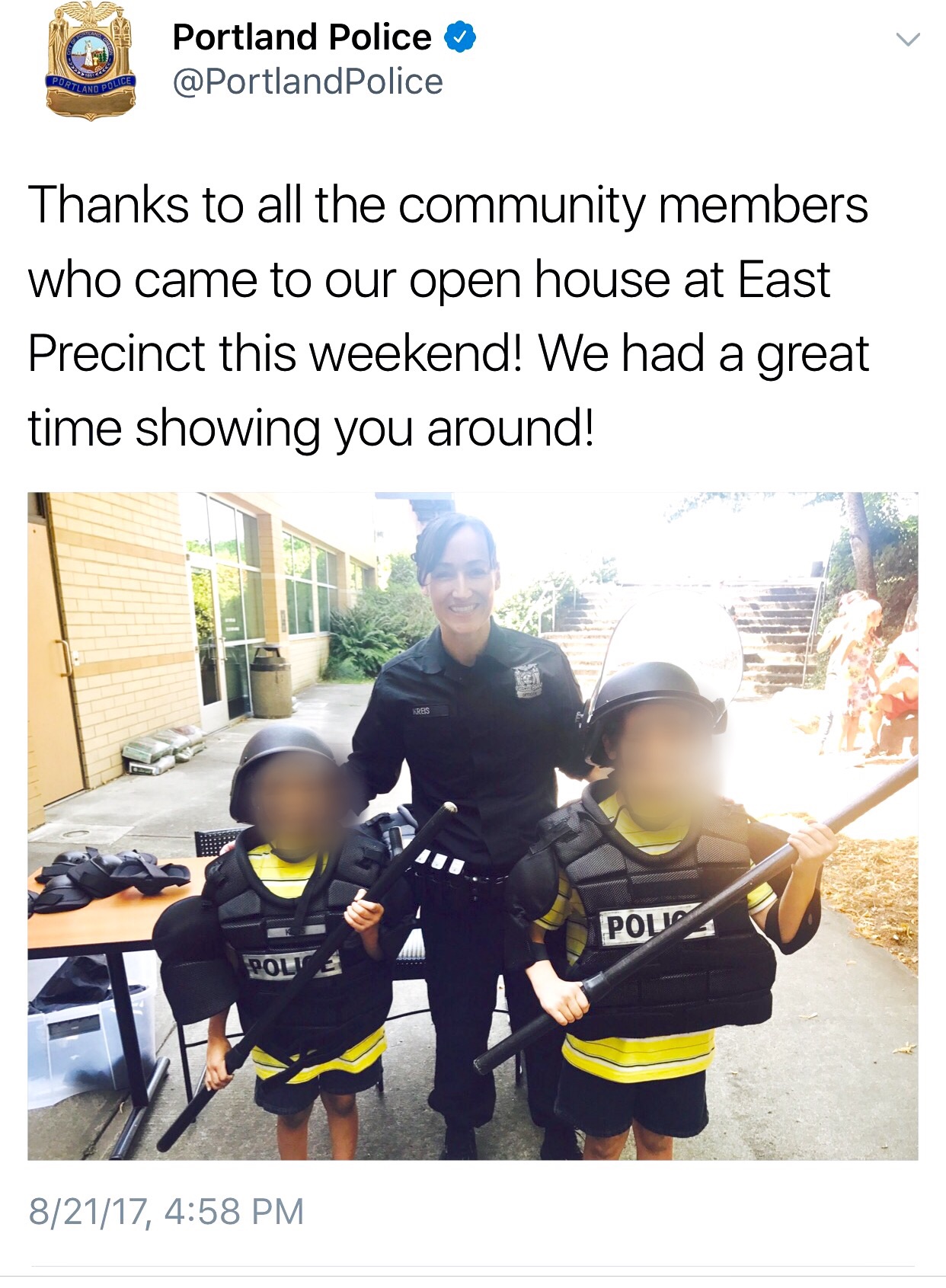 Apparently, the Department hasn't quite gotten the message that showing small children in riot gear isn't really a great PR move. Twitter schooled the Portland Police in that way only Twitter can. The responses ranged from the tell-it-like-it-is:
Seriously WTF @PortlandPolice? I guess you're committed to digging the hole deeper and widening the gap between yourselves and our community

— Michael O Hanna (@michael_o_hanna) August 25, 2017

This is horrifyingly offensive. Are you actively trying to terrorize the community, or is that just an unexpectec side benefit?

— Kate (@ktsmurf) August 26, 2017

… to the celebrity:
Small children in riot gear. Your PR and social media people should be re-assigned, @portlandpolice. https://t.co/AEGKdkvonk

— Soledad O'Brien (@soledadobrien) August 26, 2017
And from the creative:
easily the most dystopian image i've seen today, thank you

— jim poe (@fivegrand1) August 25, 2017
… to the hopeful.
Way to normalize the militarization of the police for our youngest citizens, this will make our transition to a police state easier

— Cousin Gunner (@CousinGunner) August 25, 2017
While most responses condemned the cops for their photo-blunder, there were a few who defended the Portland Police. Some were motivated by nostalgia:
loved the open houses in my area when I was a kid for both the local police and military. Awesome memories.

— Perkysaurus (@djperkysaurus) August 25, 2017
Others, by a textbook false analogy:
C'mon! If they were at the firehouse in fireman gear & on the truck etc Would that be an issue?
We have enough to be outraged about stop it

— 🌼💖Jennifer🌼💖 (@jennifahh22) August 26, 2017
And still others by outright denial.
Looks like they could be dressing up like superheroes to me.

— Dave Ater (@daveotter) August 26, 2017
As is so often the case, though, the philosophical take was likely the most accurate:
@PortlandPolice Thinking this was a good idea explains a lot.

— Debra Porta (@Debra1966) August 25, 2017
Have a tip we should know? [email protected]
Elura Nanos - Columnist & Trial Analyst, Law & Crime; CEO Lawyer Up