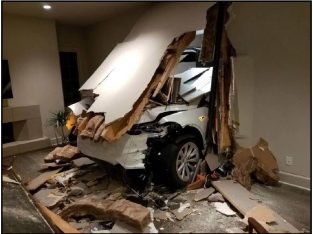 The owner of a Tesla Model X filed a lawsuit against the electric car maker Tesla Motors Inc on Friday, claiming his futuristic looking Falcon Door SUV suddenly accelerated from a speed of about 6 mph and crashed into through his garage and into his living room.  Both the driver and passenger allegedly sustained injuries.
LawNewz.com obtained a copy of the lawsuit filed on Friday in federal court in the U.S. District Court in the Central District of California by Ji Chang Son, the Model X owner and Plaintiff.
"On September 10, 2016, Plaintiff . . . was returning to . . . home in his Model X with his son . . ." when at "approximately 8:00 p.m., Plaintiff . . . slowed his vehicle to approximately 6 miles per hour and made a left turn easing into his driveway the garage after the door opened, just as he had done on countless prior occasions," the lawsuit states.
"Except that this time, . . .  the vehicle spontaneously began to accelerate at full power, jerking forward and crashing through the interior wall of the garage, destroying several wooden support beams in the wall and a steel sewer pipe, among other things, and coming to rest in Plaintiffs' living room, the complaint continues.  "Plaintiffs were trapped inside the vehicle because the doors were pinned shut by wood support beams and other debris."
The driver further claims smoke began entering the vehicle and he feared that it was about to "explode and burst into flames."  The lawsuit claims the son managed to struggle free of the vehicle and went to his father's aide, saving him from the smoking vehicle.
The lawsuit also seeks class-action status by citing an NHTSA database for what it describes as over a half dozen similar wrecks involving allegations of sudden acceleration of the Model X.  It also alleges claims for products liability, negligence and breaches of warranty and seeks unspecified damages.
The lawsuit provides several pictures of the alleged incident as exhibits as well as photos purported to be of similar Model X crashes.
A Tesla Motors spokesperson issued a statement to Yahoo News, saying it had "conducted a thorough investigation" of Mr. Son's claims and the "evidence, including data from the car, conclusively shows that the crash was the result of Mr. Son pressing the accelerator pedal all the way to 100 percent."
READ the Lawsuit:
Telsa Lawsuit by LawNewz on Scribd
Have a tip we should know? [email protected]