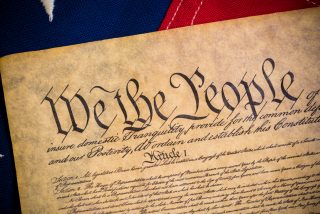 BATTLE CREEK, Mich. (AP) — A Battle Creek community college is being sued by a student and two others who say they were arrested while peacefully distributing the U.S. Constitution last fall.
Michelle Gregoire says she was told she needed permission to distribute written materials. A lawsuit filed Wednesday in federal court accuses Kellogg Community College of violating free speech rights and other protections. A group called Young Americans for Liberty is also a plaintiff.
The lawsuit says Kellogg Community College allows "expressive activity" only at an information table in the Student Center. Gregoire and others were arrested while talking to students outside the performing arts center and then locked in jail for hours. The prosecutor dropped the case.
The college says it will review the allegations in the lawsuit.
[image via shutterstock]
Have a tip we should know? [email protected]