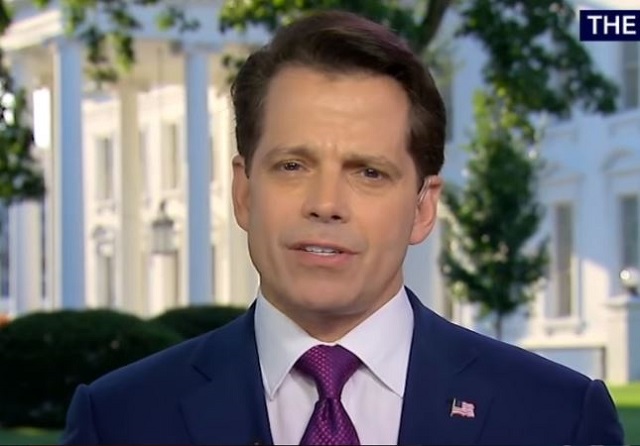 "Communications Specialist" and ousted Trumpster Anthony Scaramucci is learning a hard life lesson: there are consequences for the things you say, even when you've been knighted by Donald Trump.  And for all Mooch's tough talk, it turns out that he's as litigious a snowflake as they come. Now he's suing a grad student for disliking him.
Here's what's going down. Scaramucci is a graduate of Tufts University, and currently sits on the Advisory Board of the Fletcher School of Law and Diplomacy at Tufts. Camilo Caballero, a masters student at the Fletcher School of Law, wrote an op-ed in The Tufts Daily, urging the Mooch's removal from the advisory board on the grounds that Scaramucci is anything but exemplary of the school's values.
Caballero wrote that, "it is our responsibility as students of Tufts, as faculty or staff or trustees, to do everything in our power to preserve, strengthen and expand [Tufts'] noble vision," and that Scaramucci, by contrast, "is irresponsible, inconsistent, [and] an unethical opportunist and who exuded the highest degree of disreputability," during his extremely brief time in the Trump White House.
Caballero went on to detail several reasons why Scaramucci is an especially bad fit for Tufts' advisory board, ranging from Scaramucci's lack of relevant credentials to his prioritizing of money over morals. Caballero even went so far as to say, "If Scaramucci can have a seat on our board, then Martin Shkreli, 'the most hated man in America,' is worthy of an invitation to sit as well." Ouch. Negative, certainly. But professional, appropriate, and pretty damn far from inaccurate.
Following Caballero's op-ed, another student, Carter Banker, began a petition to have Scaramucci removed from the advisory board. Mooch was none too pleased:
Carter

Invite me on campus. Let's have an honest exchange of ideas and info. Then you can draw a more informed conclusion.

Best, Anthony https://t.co/ElHP1cL0Ey

— Anthony Scaramucci (@Scaramucci) November 7, 2017
While I kind of admire Mooch's "come at me, bro" attitude here, it doesn't exactly work that way. Apparently, Scaramucci's 10-day tenure in the White House didn't prepare him for the cold truth that when your public work reflects poorly on your values, people may choose not to work with you even without giving you a chance to explain yourself. Scaramucci has now shifted into Trump mode, and the threats have started flying. Today, The Tufts Daily published the following letter from Scaramucci's attorneys:
Scaramucci Tufts Letter by LawNewz on Scribd
Honestly, after this absurd declaration of nonsense was sent up to Massachusetts, Harvard Law School should have Scaramucci and demanded his J.D. back. Defamation? Let's be serious. A proper claim for "defamation" must allege that the speaker or writer made statements of fact, as opposed to statements of opinion. I know that distinction can be especially difficult for those infected by Trump's influence, but allow me to clarify: "statements of fact," are things like, "on January 3, Donald kissed me without my permission," or, "Sarah is suffering from Bells Palsy." By contrast, "statements of opinion," are subjective evaluations, such as, "Anthony looks awful in that suit," or, "KellyAnne really needs a new stylist." Op-eds (like this one, in case you're reading, Anthony) tend to be places where one finds opinions. One is welcome to agree or disagree, but even the most vehement disagreement is hardly grounds for a tort lawsuit.
The fact/opinion distinction isn't even the only thing making Scaramucci's claims of defamation ridiculous. After a false statement of fact is publicized, a defamation plaintiff must prove that he or she suffered tangible financial damages as a direct result of the statement. In most defamation cases, the lack of discernible damages is a problem; here, I guess it's possible Scaramucci could whine about losing few thousand dollars he stands to make from his Advisory Board meetings – but it's just as possible that Scaramucci would financially benefit from all this fracas under the, "there's no such thing as bad publicity," rule.  Either way, it's hardly the Tufts students' words that are making Scaramucci look bad — it's Scaramucci's own words and those of his lawyers.
From one communications professional to another, I'd like to offer Mooch a little pro-tip: when attempting to rehab your image after getting canned 10 days into a high-profile job, it's best not to come off as a whiny, foot-stamping, brat who picks fights with students and demands apologies from everyone.
See, e.g.:
This is a dishonest tweet. I asked for an apology. Plain and simple. In our country defamation comes with its consequences. https://t.co/Cs64CtrV86

— Anthony Scaramucci (@Scaramucci) November 27, 2017
That is what I did. All I need is an apology and correction. Get the facts right. Defamation is not unflattering coverage. It's defamation. https://t.co/EKLLAecTKh

— Anthony Scaramucci (@Scaramucci) November 27, 2017
I didn't realize you were still alive? What happened to your career? https://t.co/Dtongs4v0L

— Anthony Scaramucci (@Scaramucci) November 27, 2017
Scaramucci had actually been scheduled to speak on the Fletcher School of Law campus today, but the school canceled his appearance in light of this advisory board controversy.
Just arrived today. #irony pic.twitter.com/pRJfVSoVVP

— Anthony Scaramucci (@Scaramucci) November 27, 2017
I'm not sure I'd file any of this under #irony; to me, it seems like #consequences would be more accurate.
This is an opinion piece. The views expressed in this article are those of just the author.
Elura Nanos - Columnist & Trial Analyst, Law & Crime; CEO Lawyer Up