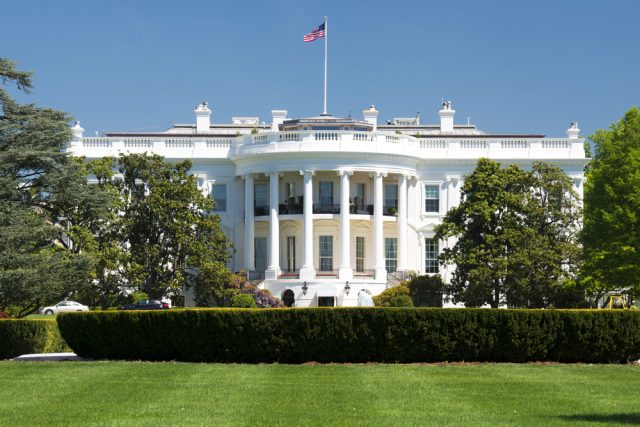 White House ethics attorney James Schultz reportedly resigned from his post last week, according to a new report, and he plans on returning to private practice. Schultz said that he'd be up for making television appearances to discuss Donald Trump's administration, particularly to come to its defense. There have been outspoken critics of the current administration in the media, and Schultz had strong words for them.
"There have been folks out there trying to make a name for themselves in that space by being critics in order to set themselves up for other positions down the road," Schultz told Politico, calling out former White House lawyer Walter Shaub in particular.
"It became pretty evident early on that Shaub's goal was to himself up to be a pundit when he left government," Schultz said. "Nobody knew who Walter Shaub was before Donald Trump became president. … He immediately thrust himself into the limelight instead of being helpful on the issues where he could have been. It was more about him than about ethics."
Shaub resigned from his position as Director of the Office of Government Ethics in July, after holding that role since January 2013. He is now the Senior Director of Ethics at the Campaign Legal Center, a nonpartisan organization focusing on election law issues. Shaub hasn't been shy about criticizing President Trump and his administration for perceived wrongdoing. Shaub was also quick to fire back at Schultz.
"I wish nobody knew my name. I wish Jim Schultz and this White House hadn't given people a reason to know my name," Shaub told Politico, denying that he sought the spotlight. "I wish Jim well. I hope he's better at his next job, or at least lasts a full year in it."
Schultz claims that he never intended to stay long at the White House.
"I was interested in continuing with private practice and saw this as a tremendous opportunity to go serve and get things up and running and the plan was to move on about this time," he said. "These are typically year-to-about-18-months-type positions."
Schultz plans on going back to Cozen O'Connor, the Philadelphia law firm where he had previously worked, but from the looks of things, he just might pop up on Fox News in the near future.
[Image via Andrea Izzotti/Shutterstock]
Have a tip we should know? [email protected]