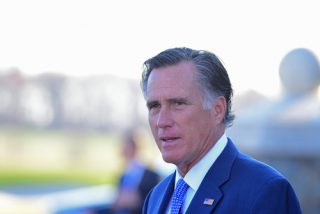 Michael Liberty, a real estate developer and Florida resident, pleaded guilty in federal court Monday to making illegal campaign contributions to a presidential candidates's 2012 campaign committee.
According to admissions made in connection with his guilty plea, between May and June 2011, Liberty made $22,500 in primary contributions through nine employees, associates and family members to the principal campaign committee of a candidate for President of the United States, when, in fact, Liberty paid for all of the contributions," reads a statement from the U.S. Department of Justice obtained by LawNewz.com.  Under federal law in 2011, individual contributions were limited at $2,500 per election.
The DOJ did not reveal which presidential candidate that Liberty illegally donated to. However, Mitt Romney is the only presidential candidate Liberty gave money to during the 2012 presidential election campaign, according FEC records.
The local newspaper in Portland, Maine reports that Liberty used to live in the state, and was known as a major developer and (mostly) Republican contributor in the area.  He's also donated to the Maine Republican Party, as well as the Angus King for U.S. Senate campaign.
We will update this article as we get more information. 
[image via shutterstock]
Have a tip we should know? [email protected]
Rachel Stockman - Editor in Chief / On Air Host