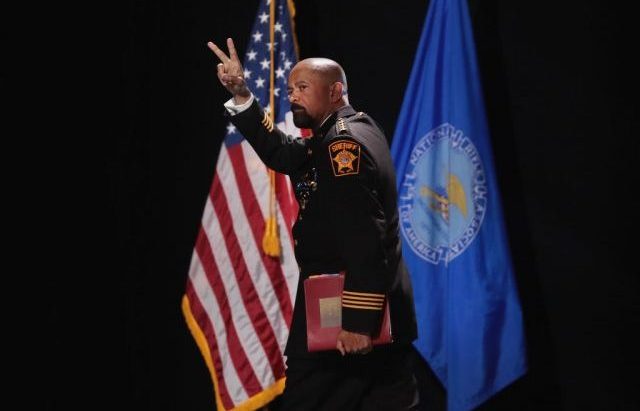 In 2017, a political action committee raised over $2 million to entice David Clarke into a Senate run — even as the former Milwaukee sheriff and controversial Trump surrogate denounced the PAC as a "scam" and dismissed rumors that he would seek a higher office.
Clarke, who recently made news for insinuating that the Parkland school shooting survivors organizing for gun reform were being manipulated by George Soros, confirmed in a July interview that he had no interest in challenging Democrat Tammy Baldwin for her Wisconsin Senate seat.
"I want to put this to a rest because it's becoming a distraction," Clarke said. "No, I'm not running for Senate.
Clarke had never publicly expressed interest in a Senate bid, but that didn't stop Jack Daly, a North Carolina-based attorney and former Republican House staffer, from creating a pro-Clarke fundraising committee that has raised money and drummed up support in part through inflammatory.
Daly agreed to OpenSecrets' request for an interview but did not answer subsequent phone calls.
Filings with the Federal Election Commission (FEC) show Daly's draft committee — Sheriff David Clarke for U.S. Senate, later changed to Bold Conservatives PAC in January 2018 — raised $2.3 million in 2017. Of that, over $600,000 was attributed to in-kind contributions from Daly for services such as sending out over 44 million fundraising emails to prospective donors.
In one less-than-politically correct fundraising email shared on his Linkedin in January 2017, Daly wrote that "David (Clarke) is willing to run: he just has to know that he has enough national support to combat the LGBTQ money his opponent will get from Hollywood and elsewhere." He characterized Baldwin as a "hard left, openly lesbian, in-your-face, screaming liberal."
The email went on to say that Clarke — "a black John Wayne" — was "chomping at the bit for a bigger stage" and facing "constant attacks by vulgar liberals offended that he does not stay on the plantation."
Carol Bushart, a Nevada retiree who gave $700 to the Sheriff David Clarke for U.S. Senate draft committee over the course of six months, said she was surprised to learn Clarke isn't on the ballot.
"Last I heard, he was running. I wish he was running. We need more people like him," Bushart said.
"I wish I could get some of that money back now that I know."
The draft committee raised roughly $1.1 million in itemized contributions of more than $200 — including Daly's in-kind contributions — between January and November 2017. The remaining $1.2 million was comprised of unitemized small donations.
FEC filings suggest Daly stopped sending fundraising emails in July, the month Clarke explicitly denied his candidacy, but the draft committee continued to collect money — $56,345 in itemized donations alone.
The PAC's website — now unresponsive — used to display quotes and news clips praising Clarke and mentioning the draft committee, along with a pledge to stand by Clarke through his campaign and photos of the former sheriff posing with a talking bobblehead version of himself.
The photos appear to have been taken at CPAC 2017— where Clarke gave the keynote speech — and an accompanying graphic promised a bobblehead to anyone who gave at least $99 to the draft committee.
Between October and November, the website was scaled back to just feature a bobblehead graphic, which promised 12-inch and 18-inch statues for donors who gave $100 or $250 respectively.
Records show the PAC spent over $55,000 last year on bobbleheads.
Written by Matthew Kelly  from Open Secrets and reprinted with permission by LawandCrime.com. The original version of the story appeared here. Open Secrets is a non-partisan nonprofit organization which tracks money in U.S. politics.
[Image via Scott Olson/Getty Images. Picture of David Clarke]
Have a tip we should know? [email protected]