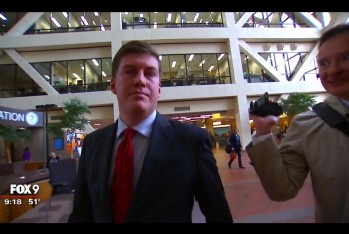 A Minnesota attorney who was part of a notorious "copyright trolling" law firm that sued thousands of people alleging they illegally downloaded online pornography, had his law license suspended indefinitely.  The Minneapolis Supreme Court suspended attorney Paul Hansmeier indefinitely, finding he lied in court, failed to pay fees and filed frivolous lawsuits.
The Pioneer Press reports the court found Hansmeier profited from filing "porno-trolling" lawsuits, which the court described as a "legal shakedown."
Under the scheme, so-called "John-Doe" defendants would be served with notice of a pending copyright lawsuit alleging they illegally downloaded pornography.  Many of the "John Doe" defendants would quickly take the option to pay a settlement fine of a few thousand dollars to avoid the lawsuit.  The stigma associated with downloading porn often, coupled with the costs of hiring a personal attorney was cited by the court as a major factor in why many John Does simply paid the fine.
According to court documents, Hansmeier and his team made millions off those fines.
Hansmeier was also accused of abusing the discovery process.  According to the report, Hansmeier often filed lawsuits for the purpose of identifying individuals to sue.  In this context, it likely means Hansmeier first obtained a list of IP addresses from various pornography downloading websites.  He would then file lawsuits and use the discovery process to undercover the identity of the individual associated with a certain IP address.
One judge reportedly told Hansmeier and his colleagues that they "suffer from a form of moral turpitude unbecoming of an officer of the court."
When leaving court, Hansmeier told the Pioneer Press he was unsure whether he would seek reinstatement in four years.  For the time being, he said his focus was on helping the disabled.
Helping the disabled sounds noble, but according to WCCO News, Hansmeier's work in that area has already been the subject of numerous complaints.
Several local small business owners say Hansmeier's work on behalf of the disabled is nothing more than another frivolous lawsuit business.
One owner filed an ethics complaint over his conduct, accusing Hansmeier of filing numerous frivolous lawsuits over building access and violations of the ADA.  The complaint alleged the real motive behind the ADA cases was also to obtain a settlement.
Have a tip we should know? [email protected]