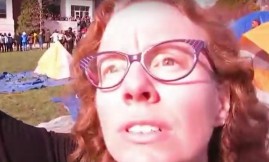 Melissa Click, University of Missouri Professor and viral video sensation, has been charged with assaulting a student reporter. It's a misdemeanor charge.
She rocketed to infamy last year during protests at the University of Missouri, amid racial tensions. A student reporter was trying to take pictures of the demonstrators when a few told him to bug off.
Then Professor Click told him to go, shoving his camera few times (look at the video below). He refused, and that's when she became quotable:
"Hey, who wants to help get this reporter out of there," she called out. "I need some muscle."
She's still working at "Mizzou" but resigned her courtesy appointment with the journalism school in November.
[h/t ABC 17, image via screengrab]
Update — Jan. 25, 4:26 p.m. EST: University of Missouri Interim Chancellor Hank Foley held a press conference at 3:50pm to talk about the school's investigation on her actions. It was mostly about tenure and internal issues. When asked by a reporter about the charges announced today, he declined to state an opinion. As a chemist, he knew about the "laws of nature," but not criminal ones, he said.
–
>> Follow Alberto Luperon on Twitter (@Alberto Luperon)
Have a tip we should know? [email protected]