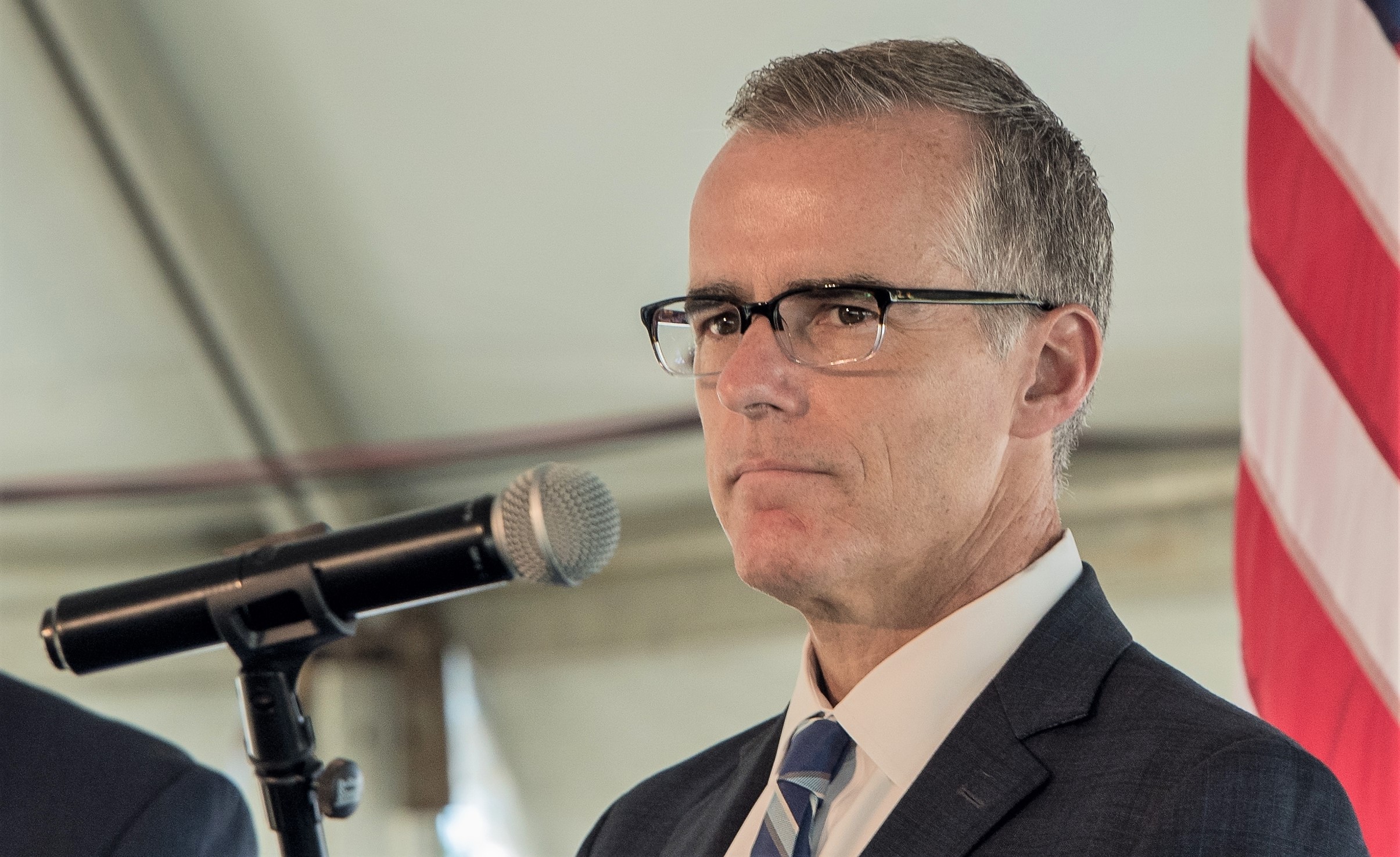 After last night's 11th hour-firing of now-former deputy FBI director Andrew McCabe, the cries of "obstruction of justice!" rang out almost immediately:
Tonight's cruel and unwarranted firing of #AndrewMcCabe will boomerang against its evil architects. His statement tonight is dynamite. Even if the IG's report was right, McCabe's firing was part of Trump's effort to undermine Mueller and thereby obstruct justice.

— Laurence Tribe (@tribelaw) March 17, 2018
This tweet is now evidence in an ongoing federal criminal investigation into Obstruction and Witness Tampering.

McCabe's firing will haunt Mr. Trump just as Comey's firing did, and will eventually help unmask Trump as the unrepentant, risible criminal he is and always has been. https://t.co/96XgRzqg0q

— Seth Abramson (@SethAbramson) March 17, 2018
McCabe issued his own statement, calling out the media for its "unrelenting assault" on his and his family's "reputation and service to this country," and leveling a declaration of "No more" at the Trump administration for stripping him of his pension after over two decades of service. In that statement, McCabe's main points were what we would expect: (1) that his firing was unfair; and (2) that he individually, and the FBI generally have always served with integrity and dedication.
Although it is certainly true that Trump's childish gloating over firing someone he perceives as a political foe is typical, predictable, and undignified, McCabe's statement does very little beyond simply reprimanding Trump for his behavior. And ultimately, if saying the wrong thing at the wrong time were legally actionable, Trump would already be serving a life sentence in Attica.
Andrew McCabe FIRED, a great day for the hard working men and women of the FBI – A great day for Democracy. Sanctimonious James Comey was his boss and made McCabe look like a choirboy. He knew all about the lies and corruption going on at the highest levels of the FBI!

— Donald J. Trump (@realDonaldTrump) March 17, 2018
Despite the hopes of many that McCabe's statement somehow solidifies an obstruction of justice case against the president, the legal reality is that it does nothing to help – and perhaps a bit to harm.  Here's why:
McCabe hasn't actually alleged any new and compelling facts.
It is absolutely true that Trump's firing McCabe could be the basis for an obstruction charge. However, that firing alone isn't sufficient to make a case. Any action taken must have been done "corruptly" or with an "improper purpose." And that gets tricky, because generally, it's tough to prove why a person did something.
As I've written many times before, intent can be tough to prove. And while fact-finders sometimes infer a defendant's state of mind based on that contextual information, those inferences usually depend on the conspicuous absence of some credible alternative explanation for the behavior.
In this case, we have a major obstacle: the Inspector General's report. The FBI's Office of Professional Responsibility reviewed the report and issued its own disciplinary proposal recommending the dismissal of Mr. McCabe. Both the OIG and FBI OPR reports concluded that McCabe had acted improperly by making an unauthorized disclosure to the news media and that McCabe "lacked candor."
Trump could easily point to both of those reports as why he supported firing McCabe, and without more, such an explanation would make a finding of "improper purpose" extremely difficult.
McCabe is trash-talking the OIG.
McCabe is doing to the OIG exactly what he's saying was unfairly done to the FBI. McCabe's statement valiantly defends the FBI as being the upstanding, apolitical organization that we all hope it to be. The OIG is also an independent law-enforcement agency, which happens to be led by an Obama-appointee with a stellar record. So it's not exactly clear why such an organization would suddenly turn into a bunch of unscrupulous Trump sycophants.
Just last month, the Justice Department spokesman under Eric Holder discussed Inspector General Michael Horowitz with Vanity Fair, and said, "Whether you agree with all his conclusions or not, Horowitz has a history of acting in good faith. He's generally considered to be a straight-shooting guy, though he likes to mind his congressional politics."
McCabe made the following accusation in his statement:
"The OIG's focus on me and this report became a part of an unprecedented effort by the Administration, driven by the President himself, to remove me from my position, destroy my reputation, and possibly strip me of a pension that I worked 21 years to earn."
While it's not difficult to imagine President Trump publicly declaring someone an enemy and working diligently to destroy that person, it seems a bit of a stretch to assume that Michael Horowitz and the OIG would cavalierly do the same thing. Let's keep in mind, too, that the IG's report was based on facts that very well may reflect badly on McCabe. Specifically, it found that McCabe authorized the disclosure of sensitive information to the media about a Clinton-related case and then misled investigators.
Legal expert and Law Professor Jonathan Turley commented on his lack of surprise over McCabe's firing:
"I viewed it as highly unlikely that Sessions would ignore the relatively rare recommendation of the Office of Professional Responsibility that McCabe be fired.  Sessions previously followed staff advice in his own recusal and there was every reason to expect him to continue to yield to the recommendation of career staff."
True, McCabe has his own side of the story, in which his discussions with media were beyond reproach; he may well be correct. However, McCabe wouldn't be the first person who disagreed with the official account of a controversial action taken in a politically-heated climate. Regardless of whether one agrees with the OIG report or with McCabe's own interpretation of the facts, the existence of the report speaks for itself. The report cannot be wholly discounted as partisan warfare without taking down Michael Horowitz in tandem.
I'll be the first to recognize that Andrew McCabe's lament over his own victimization is far more eloquent than Trump's usual cries of witch hunts and libel – but at it's heart, it's not all that different in substance.
McCabe's statement also looks kind of bad for James Comey.
In his statement, McCabe said the following about his talks with media:
"As Deputy Director, I was one of only a few people who had the authority to do that. It was not a secret, it took place over several days, and others, including the Director, were aware of the interaction with the reporter."
The director to which McCabe is referring is none other than James Comey – who has already gone on record that he never leaked information and never approved such a leak. So much about law is context-dependent, but there are some universal truths; inconsistency in official statements is never a good thing for the people making those statements.
On CNN this morning, Jonathan Turley warned:
"[McCabe's] statement is going to trigger another round of inquiries. Who know about this and was this a leak to the media. Comey has already been accused of leaking info after he left. Comey is not out of the woods and McCabe's statement doesn't help him at all."
Whether there exists evidence that Donald Trump obstructed justice in some way isn't something that is settled at this point in time. However, Andrew McCabe's statement makes it no more or less likely that such evidence exists. McCabe has raised no new facts and no new lines of inquiry.
What he has done is impugn the independence of Office of the Inspector General in the exact same way Donald Trump has consistently done to the FBI.
In 2018, it appears partisanship is everywhere other than where it belongs. Legal expert Laurence Tribe's point should be well-taken by those who Trump purports to value most highly:
This barbaric firing should shake all of Trumplandia — including working class guys who can easily imagine being screwed out of their meager pension by a mean and petty boss hours before they can retire with full benefits https://t.co/XrjXCYeF9B

— Laurence Tribe (@tribelaw) March 17, 2018
But likely, it wont.  Instead, in increasing numbers, Americans appear willing to criticize our law enforcement agencies for the same misguided political loyalty that is the true culprit of the willful blindness responsible for seating Trump in the Oval Office.
[image via Federal Bureau of Investigation]
This is an opinion piece. The views expressed in this article are those of just the author.
Elura Nanos - CEO, Lawyer Up; Columnist & Host, Law & Crime