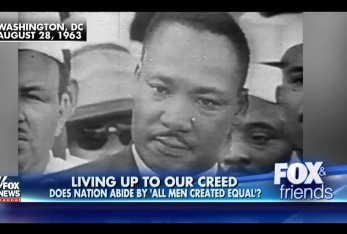 A judge on Monday ruled Rev. Martin Luther King's traveling Bible and Nobel Peace Prize medal belonged to King's estate.  The ruling ends an ownership dispute that pitted King's two surviving sons against his lone daughter.
The Atlanta Journal Constitution reports the dispute began back in 2014 when King's two sons, Martin Luther King III and Dexter Scott King, voted to sell the two items to a private collector.  King's daughter, Bernice King, objected to the proposed sale and maintained possession of the items.  The estate then filed a lawsuit to seek a court order forcing Bernice to surrender possession of the items (the three King children are also the sole shareholders and directors of the estate).
The newspaper reports Bernice previously said she could not imagine selling two of her father's most cherished possessions, while the brothers testified at a court hearing in February 2014 that the items needed to be sold because the estate needed money.  At the conclusion of the 2014 hearing, Fulton County Superior Court Judge Robert McBurney ordered the items be surrendered to the court, pending a final outcome in the case.
Over the past two years the parties reportedly tried to resolve the matter out of court, with former President Jimmy Carter actually stepping in to serve as a mediator at one point.  However, in July of this year the court got involved again after the parties apparently made little progress in resolving the matter.  Judge McBurney entered an order finding the Bible belonged to the estate, despite Bernice having maintained physical possession of the item for many years. Bernice's attorneys have reportedly appealed that decision.
At the same hearing, the judge ordered the dispute surrounding the Nobel Peace Prize medal would proceed to trial, scheduled to begin on August 15.
Instead of beginning a trial on Monday, Judge McBurney dismissed the case and entered consent order, finding the Nobel Peace Prize medal also belonged to the estate.  He further ordered both items are to be turned over to Martin Luther King III as chairman of the estate.  Though, the newspaper reports the order does not specifically state whether the items will still be sold.
[image via screengrab]
Have a tip we should know? [email protected]