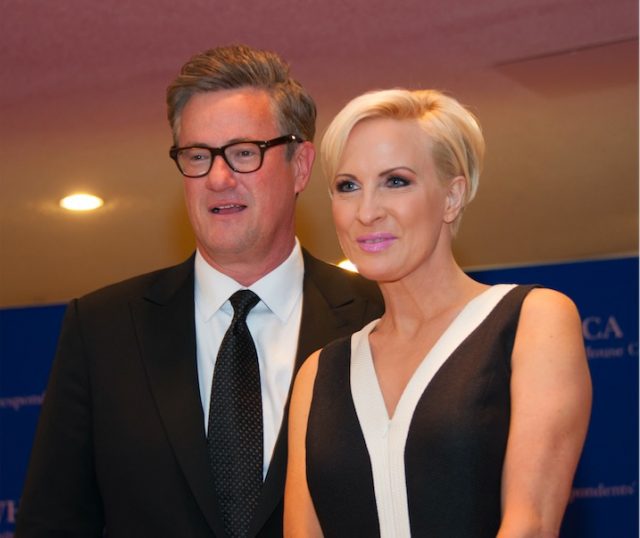 MSNBC host Mika Brzezinski and Joe Scarborough revealed both on Morning Joe and in a Washington Post piece that they were basically blackmailed by the President of the United States. Yes, you heard us right. The White House staff apparently threatened them with a negative story in The National Enquirer if they didn't make nice.
"We got a call that, 'Hey, the National Enquirer is going to run a negative story against you guys.' And they said, 'If you call the president up, and you apologize for your coverage, then he will pick up the phone and basically spike this story," Scarborough said during the morning show. Trump is a longtime friend of David Pecker, who is the publisher of the tabloid magazine, and has been known to push Trump's agenda.
Trump has denied these claims via twitter.
Watched low rated @Morning_Joe for first time in long time. FAKE NEWS. He called me to stop a National Enquirer article. I said no! Bad show

— Donald J. Trump (@realDonaldTrump) June 30, 2017
So, if you believe Mika and Joe's version about what happened, there are some significant legal considerations. First, the phone calls to Mika's teenage children.
"These calls persisted for quite sometime," Mika said on the morning talk show.
Number one. Under New York law (Mika reportedly lives in Westchester County), stalking is defined as:
Stalking in the 4th degree: intentionally and with no legitimate purpose engages in conduct that s/he knows or should reasonably know: will cause reasonable fear of material harm to victim or member of victim's immediate family or causes material harm to mental or emotional health of victim or member of victim's immediate family or causes a reasonable fear that victim's employment or business is threatened.
We don't know what these reporters said to Mika's teenage children, or if she even reported this incident to police, but certainly the teenagers could have felt "material harm" to their emotional well-being if they were "harassed" with phone calls. Members of the paparazzi have been arrested for harassing subjects of a story especially when the allegations involve children. Photographers and reporters have also been cited for trespassing on private property. An editor for the Enquirer disputes Mika's description about what happened saying "at no time did we threaten either Joe or Mika or their children in connection with our reporting on the story."
However, probably most troubling, is the allegation that the White House basically threatened the hosts with a National Enquirer hit piece on them. As George Washington University Law Professor Jonathan Turley contends, that allegation raises significant impeachment considerations:
While such an allegation fits more squarely with an impeachment charge as opposed to a criminal charge, it could not be more serious for a country that has always jealously protected both free speech and the free press.  If Administration officials were using their time and offices to convey threats to journalists or commentators, it would constitute a direct assault on those values.

Obviously, we should hear from the White House on the allegation. They may argue that they had been called on the story and were giving the hosts a courtesy warning (not uncommon in this town). However, that would not square with the alleged "ask": that the hosts call Trump to apologize in return for the killing of the story.  This should be treated as a serious matter for inquiry by Congress which has oversight authority over federal offices and agencies.
If congressional investigators looked into this, they would no doubt try to discover the extent of Trump's involvement, and what exactly he (or members of his staff) said to editors of The National Enquirer. Did Trump or his staff instruct the reporters to "rattle" the hosts in order to get them to cover him more favorably? Did Trump have knowledge that they would be "harassing" the MSNBC host's children?
Dylan Howard, an editor at the Enquirer told CNN "we have no knowledge of any discussions between the White House and Joe and Mika about our story, and absolutely no involvement in those discussions." But Scarborough contends he has proof of the threats, "I have texts from your top aides and phone records."
The Constitution says that "The President, Vice President, and all civil officers of the United States" may be removed from office for "treason, bribery, or other high crimes and misdemeanors." It is Congress' job alone to determine what is considered a "high crime or misdemeanor."
"High crimes and high misdemeanors are actions performed in an official capacity by a government official that violate the basic principles of the government and that therefore subject you to impeachment. They don't have to be actual crimes that are on the statute books at all," said Noah Feldman, a constitutional law professor at Harvard Law School in a recent podcast.
Would something like this fall under the category as a violation of the First Amendment? If the story is true, Trump was apparently trying to prevent the hosts from speaking freely about the president– a basic freedom in the United States. That's a pretty serious threat to free press.  It's not clear if this would be considered an impeachable offense, but it certainly raises some ethical and legal questions that need to be further examined.
LawNewz.com is updating this article as we get more information about what happened, and with further legal analysis. 
Have a tip we should know? [email protected]
Rachel Stockman - President / On Air Host