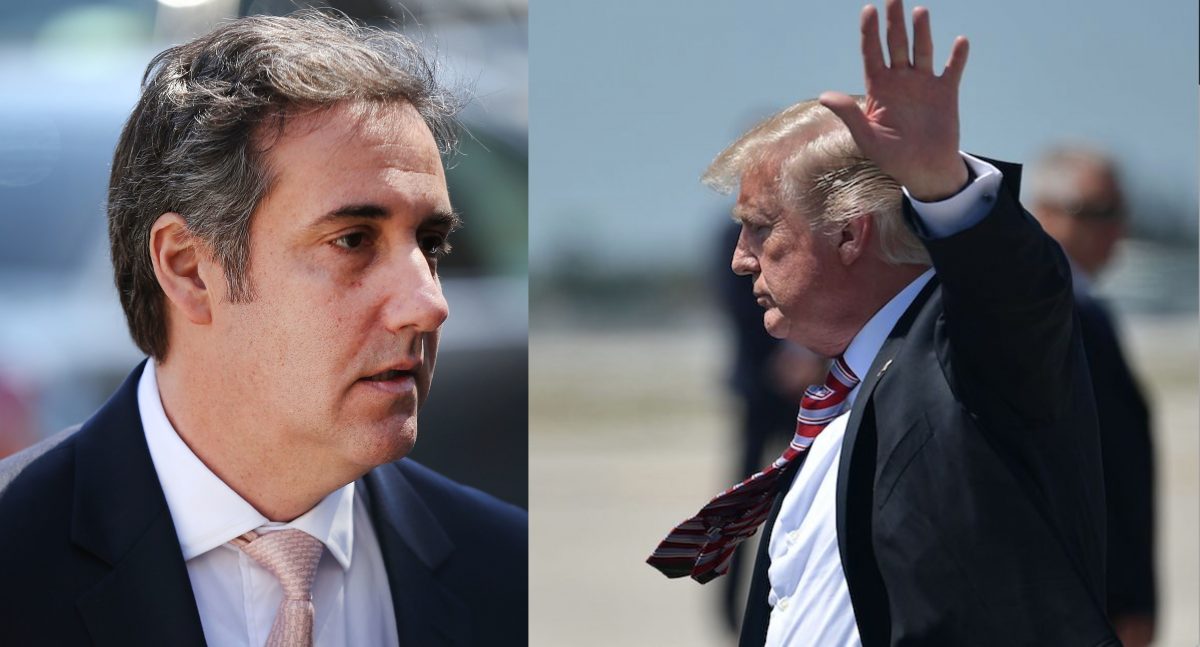 Two anonymous sources have revealed to NBC News that President Donald Trump's "fixer," friend and sometimes-attorney Michael Cohen had his phones wiretapped by the federal government.
As of now, it's unclear which federal law enforcement agency (or agencies) may have applied for, been granted and made use of the alleged Cohen wiretaps–or on what basis. Law&Crime's Ronn Blitzer explored this issue in a separate piece and suggested federal investigators were looking to both strengthen their hand and show a judge that Cohen was likely to destroy documentation and/or ignore a subpoena.
Additionally, federal investigators might have believed there was evidence of an ongoing crime being discussed over Cohen's phone lines. But what about the potential attorney-client privilege issues involved?
If any of the wiretapped Cohen conversations fall under the privilege in the first place–a somewhat dicey proposition–the federal government's filtering process would be similarly sophisticated as the filtering process performed by a federal taint team undertaking a review of seized attorney's documents.
In a statement provided to Law&Crime, former SDNY prosecutor Daniel Goldman noted:
The same filter process applies to a wiretap. A group of filter agents listen to calls and minimize – that is, cease listening to – any calls that pertain to attorney-client privilege. Those calls that may or may not be privileged are then reviewed by prosecutors on the filter team before provided to the investigative agents and prosecutors. As for conversations between Trump and Cohen, not all of their conversations would be covered by the attorney client privilege. So it would depend on the content of the call.
How effective are taint teams at adequately protecting the attorney-client privilege? That's a matter of some fierce debate–and most critics are decidedly not culled from the Trump and Cohen demographic.
Many criminal defense attorneys are less than convinced as to the efficacy (or dedication for that matter) of federal cops in securing the centuries-old privilege. The National Association of Criminal Defense Lawyers is fairly scathing in their estimation of taint teams. An article from their in-house publication notes:
The privilege is no less violated because the review is conducted by a "taint team" rather than the "prosecution team." The privilege protects its holder from any governmental intrusion, absent a judicial determination that an exception to the attorney-client privilege permits scrutiny of the documents. It is herein that the irreparable injury and, concomitantly, the lack of an adequate remedy at law, lies in the context of the law office search and seizures of privileged materials.
That's one opinion–from an arguably self-interested set of parties. But it's actually not that controversial.
The American Bar Association–without weighing in on the law enforcement angle–is similarly critical of the concept behind taint teams. Known in the legal community as a "Chinese wall," the general idea is that one group of people in an investigation (the taint team) can parse out what another group of people in an investigation (the criminal prosecution or civil counsel) are allowed to see. In theory this is done without any improper cross-over. The ABA noted, in 2010, "The time of the Chinese Wall has passed."
Without venturing judgment as to whether federal investigators were sufficiently diligent in turning off the wiretap in time under extremely unknown circumstances viz. Cohen and Trump, two competing lines of thought have become clear while covering the Cohen hearings at the Southern District of New York.
One, the government is quick to respond with incredulity at any suggestion that their taint team wouldn't be up to the task of balancing law enforcement interests and the ancient legal privilege.
Oppositely, the Cohen and Trump legal teams clearly believe federal taint teams are wink-nod ways for the government to "suck up" privileged communications without admitting they've done so.
There's probably no reason to expect Thursday's wiretapping news will change anyone's minds or arguments as to the attorney-client privilege going forward.
Editors' note: Hours after the NBC News story was published, NBC News issued a correction on MSNBC, saying that what federal investigators actually did was not a wiretap but a pen-register.
CORRECTION: Feds have pen-register, not wiretap on Michael Cohen pic.twitter.com/gXLckdKPeX

— MSNBC (@MSNBC) May 3, 2018
The two reporters on the story, Tom Winter and Julia Ainsley, also issued the correction on Twitter.
Correction: Michael Cohen's calls are being monitored but not being listened to. Pen register and not wiretap.

— Julia E. Ainsley (@JuliaEAinsley) May 3, 2018
Correction: Earlier today NBC News, and this reporter, said that Michael Cohen's phone lines were wiretapped. 3 Senior U.S. Officials now dispute that, saying the monitoring was limited to a log of calls (pen register) not a wiretap of Cohen's lines. We will continue to report.

— Tom Winter (@Tom_Winter) May 3, 2018
Former SDNY prosecutor and CNN legal analyst Preet Bharara explained this is "much less intrusive than a wiretap" and "no actual phone call content is listened to."
NBC has now retracted its "scoop" about a wiretap. A pen register is much easier to get and much less intrusive than a wiretap. No actual phone call content is listened to. Basically it's a real-time log of calls. https://t.co/KZxZrkF9Kb

— Preet Bharara (@PreetBharara) May 3, 2018
[image via GETTY]
Follow Colin Kalmbacher on Twitter: @colinkalmbacher
Have a tip we should know? [email protected]