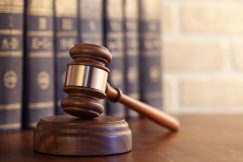 LEXINGTON, Ky. (AP) — A former Kentucky judge has been reprimanded for having sex with a woman while he was presiding over her felony criminal case.
The Kentucky Judicial Conduct Commission reprimanded the judge Friday. The commission says Ronnie C. Dortch had a relationship with the woman from 2014 to 2015 and discussed the case with her outside of court.
The commission says since the judge retired last month, a reprimand was the strongest punishment it could dole out.
The order does not identify the woman, what she was charged with or the outcome of her case. A commission spokesman declined to give more details. A call to a listed number for Dortch was not immediately returned.
Dortch was appointed to the 38th judicial circuit in 1992 and won three elections.
This article was written by Adam Beam from the AP.
Have a tip we should know? [email protected]