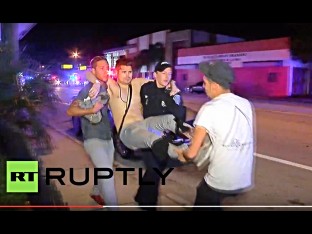 A lawsuit has been filed by one of the survivors of the Orlando terrorist attack that asks a judge to order an audit of the OneOrlando Fund.  Additionally, disputes have erupted between families and partners of about half of the 49 victims who are entitled to receive the payment.
The Orlando Sentinel reports the complaint was filed by Jillian Amador, a woman who was injured trying to escape the attack on the Pulse nightclub.  According to the report, the lawsuit questions the ability of Ken Feinberg to fairly serve as the administrator of the fund.
"In short, we simply want to hold the Fund and it's Administrator accountable to their stated mission: to collect and distribute the funds in an open, fair and transparent manner," Amador's attorney, Paul Zeniewicz, told the newspaper in an email. "A pre-dispersal audit is absolutely necessary to make sure that the Fund is distributing 100% of the monies collected  to the victims and victim's families."
Feinberg is rather well-known and experienced in handling victims compensation matters in mass casualty situations.  He has previously served as the administrator of the September 11th Victim Compensation Fund, the BP Deepwater Horizon Disaster Victim Compensation Fund and One Fund Boston.
Judge John E. Jordan denied a request to hold an emergency hearing on the matter today and set a hearing for October 6.
Alex Martins, the president of the Orlando Magic and chairman of the OneOrlando Fund, told the newspaper the lawsuit will not prevent payments to the victims and he still expects to complete the distributions by the end of the week.
According to ABC News, the estates of the 49 victims who died in the attack are expected to receive $350,000 each from the fund.  This has already led to fights between family members and partners of at least half of the 49 victims over who is entitled to receive the money.  Martins told the network if the disputes are not resolved, the cases will be heard before a judge in probate court.
The 182 survivors who were inside the club at the time of the attack, but who were not injured, will receive $25,000 from the fund.  An additional 68 survivors who were injured in the attack will receive between $35,000 and $300,000, depending on the extent of their injuries and how long they were hospitalized.
The fund was set up in the aftermath of the attack in order to help victim's families and survivors.  It raised $29.5 million in donations.
Have a tip we should know? [email protected]