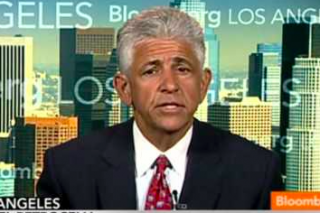 Here at LawNewz.com, we've been closely covering the Trump University fraud case as it makes its way through federal court in California. However, one fascinating figure who hasn't received much coverage in the case is the man that Mr. Trump picked to represent him as lead attorney: Daniel Petrocelli. If his name sounds familiar, Petrocelli has been involved in high profile cases for decades. He's not afraid to take on controversial figures as clients.  He's represented Enron's Jeffrey Skilling. He also represented Fred Goldman in the family's successful wrongful death lawsuit against O.J. Simpson.
Despite having landed Trump as a client, Petrocelli's political donation history reveals he's not exactly aboard the #TrumpTrain, as Politico first noted. In fact, as recently as January, he maxed out his primary donations to the presumptive Democratic nominee. Records reviewed by LawNewz.com indicate Petrocelli donated $2,700 to Hillary for America after he'd taken on Trump's case. He has a long history of supporting Democrats including Dianne Feinstein and Tom Lantos.
Petrocelli is a partner at O'Melveny & Meyers where he serves as the chair of the firm's trial practice committee. In a recent Law360 profile, his colleagues described him as a "force of nature." He's represented big companies like Warner Brothers and Walt Disney Co., and won verdicts as high as $1 billion.
The case that put Petrocelli on the map though was when Fred Goldman approached him in 1996 to represent him in the family's wrongful death suit against O.J. Simpson. In a civil trial followed around the world, the then-rookie lawyer did what prosecutors in California could not — he won, helping the family secure a $33.5 million verdict against O.J. Simpson.
"I wish the country could have seen Simpson lie over and over and over again. Because then there would not be anybody rational or reasonable who would believe in his innocence," Petrocelli said in an interview.
In the mid-2000's, Petrocelli waged a vigorous defense on behalf of a man loathed by many: Jeffrey Skilling, the former CEO of the Enron Corporation.
" [He] never broke the law, he never told anybody to break the law, and he didn't lie, cheat or steal," Petrocelli told jurors in a very forceful opening statement during his fraud and insider trading trial. Skilling was sentenced to 24 years in prison. But in 2013, Petrocelli negotiated him a deal with the feds which could get him out as soon as next year.
As for Donald Trump's case,  Mr. Petrocelli seems to shy away from adopting any of Trump's controversial language. He has stayed relatively out of the spotlight after he was hired to defend Trump when former students sued the presidential hopeful and the school for fraud. Unlike his client's sometimes out-of-control statements, Petrocelli's briefs and motions in the case are very measured and well-researched.
When Mr. Trump repeatedly questioned federal Judge Gonzalo Curiel's impartiality because of his ethnicity,  Mr. Petrocelli stayed silent. Petrocelli never followed through with Mr. Trump's veiled attempts to get the judge recused. As LawNewz.com editor Ronn Blitzer pointed out, Petrocelli likely realized that any motion for recusal was going to be a losing one, and could even get him sanctioned. In fact, even before Trump made the controversial comments, Petrocelli praised the judge.
"The judge is doing his job," Petrocelli said in May. According to Yahoo News, when asked if he planned to seek Curiel's recusal, he said: "We're not seeking to recuse the judge." Petrocelli has filed a motion for summary judgment and is hoping the judge will dismiss this case. Trump clearly didn't hire Mr. Petrocelli based on his political leanings. Petrocelli, however, does know a thing or two about waging a successful legal defense and doing what Mr. Trump likes best: winning.
Have a tip we should know? [email protected]
Rachel Stockman - Editor in Chief / On Air Host