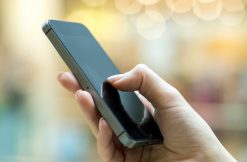 Washington man John Garrett Smith was found guilty in the 2013 attempted murder and assault of his wife Sheryl. Prosecutors relied on key evidence—a cell phone recording in which he threatened her, they say. But that attempted murder conviction was overturned on Tuesday because a state appeals court felt that the victim hadn't consented to being recorded.
Sheryl was reportedly beaten so bad, she suffered a concussion and brain damage, as well as injuries to her face.
Here's an excerpt from the Tuesday opinion as it discusses the audio:
Examples within the voice mail recording include: (1) John calling Sheryl a "[f]at [b]itch" and Sheryl responding, "Stop"; (2) John asking, "Where is my phone?" and Sheryl screaming, "Look what you have done to me!"; and (3) John telling Sheryl, "I will kill you" to which Sheryl responds, "I know."
Tuesday's opinion stated that this recording should not have been admissible in Smith's trial because the judges felt it was a private conversation under Washington law, specifically RCW 9.73.030(1)(b).
Here, a domestic dispute occurred between two married persons in the privacy of their home. The dispute did not occur until [Smith's daughter Skylar] Williams left, which signals a subjective intention and reasonable expectation that the conversation would be private. Id. at 729-31. Of the factors set out above, the location of the conversation, the relationship between the parties, and the absence of third parties all declare the privacy of the conversation.
Both parties needed to consent to the conversation, judges said, and this included Sheryl:
Standing alone, Sheryl's screams would not constitute a conversation. However, these screams were responsive to statements that John was making to Sheryl and were scattered throughout the entire dispute, which contained repeated verbal exchanges between the two individuals as outlined above. Within this context, Sheryl's screams serve as an expression of sentiments responsive to John's yelling and thus constitute part of a conversation. For the above reasons, the contents of the recorded voice mail constituted a conversation under RCW 9.73.030(1)(b).
In a Thursday report, Smith's trial attorney Josephine Townsend told The Daily Beast she was pleased with the ruling, but, "It's not an automatic win. It's basically a do-over."
The assault conviction stands while the attempted murder case is being remanded for a possible retrial. Prosecutors have the option to try him again, but attempt to convince him to plead out on the assault charge.
Jennifer Nugent, the former Clark County Deputy Prosecutor behind Smith's conviction in 2014, has since transitioned to private practice, but she told The Daily Beast that she disagreed with the Tuesday ruling. She otherwise otherwise declined to comment.
Smith filed for divorce in October, 2014, according to court documents viewed by The Columbian.
You can read the full opinion here:
State of Washington v John Garrett Smith by LawNewz on Scribd
[image via Andrey Yurlov and Shutterstock]
–
Follow Alberto Luperon on Twitter (@Alberto Luperon)
Have a tip we should know? [email protected]