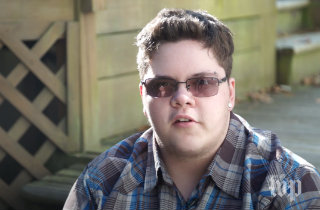 As President Donald Trump continues to make good on his campaign promises to change our America, it's easy to fall into a pattern of daily screams of a falling sky. But this time, while the administration has been clear that it is not interested in being a champion for transgender rights, the effect is hardly earth-shattering.
Let's take a deep breath and remember that the Supreme Court doesn't answer to the U.S. Department of Education. The Supreme Court is the final arbiter of questions about interpretation of federal law; Trump or no Trump, those eight (maybe nine?) legal heavyweights aren't about to start backing off their responsibilities. Now that we've recentered a bit, we can take a good look at what happened yesterday between the DOJ, the DOE, and the case of transgender student Gavin Grimm.
A refresher on Gavin Grimm's upcoming SCOTUS case:
Gavin Grimm is a 17 year-old transgender boy in rural Virginia who sued his local school district over a policy requiring him to use the girls' bathroom. The crux of Gavin's claim was that a rule mandating the use of bathrooms that correspond with "biological gender" violates his civil rights, and the civil rights of other transgender students. Instead of allowing Gavin to use the boys' bathroom, Gavin's school principal instituted a rule requiring him to use a single-stall unisex restroom.
One of Gavin's central arguments is that Title IX (the federal law prohibiting gender discrimination) requires schools to permit transgender students to use bathrooms consistent with their gender identity. SCOTUS granted certiorari in Gavin's case not only to answer a question of great importance to Gavin, but also to address a split in the federal courts. The Fourth Circuit deemed Title IX's use of the word "sex" ambiguous, while the district court in Texas held that "sex" means only biological sex given at birth. In other words, in the Carolinas, schools are prohibited from forcing a person identifying as a boy to use a girls' restroom, while Texas schools are allowed to do just that.
As is its job, SCOTUS will rule on questions actually raised by litigants in Gavin Grimm's case – and will not simply opine on what's "fair" in a general sense.
What had been happening with the Grimm case before Trump took office?
The Obama administration issued a "Dear Colleague Letter" ("DCL") to clarify its position on what it believed Title IX required of schools. The letter required schools to treat students consistent with their gender identities as follows:
"The Departments interpret Title IX to require that when a student or the student's parent or guardian, as appropriate, notifies the school administration that the student will assert a gender identity that differs from previous representations or records, the school will begin treating the student consistent with the student's gender identity."
Essentially, the Obama administration stood up for Gavin Grimm and other transgender students, and publicly declared that a mandate for students to use facilities inconsistent with their gender identities is discriminatory. However, a Texas federal judge put a nationwide injunction on the guidelines — so even before Trump made his announcement, the Obama guidelines were not being enforced.
So what did the Trump administration do Wednesday?
It officially withdrew the guidelines that the Obama administration had put forth in its DCL, and blamed that administration for causing trouble. Our new DOE and DOJ issued a letter to the clerk of the Supreme Court, updating SCOTUS on the government's position in the Gavin Grimm case, which is scheduled for oral arguments on March 28. That letter, posted by NBC News' Bradd Jaffy, specifically calls out the Obama administration making a claim, failing to back up that claim, and otherwise causing confusion about how or why Title IX dictates school policies for transgender students.  That letter stated:
"These guidance documents do not… contain extensive legal analysis or explain how the position is consistent with the express language of Title IX, nor did they undergo any formal public process. This interpretation has given rise to significant litigation regarding school restrooms and locker rooms."
The letter goes on to remind SCOTUS about the split among federal courts over what "sex" means, and crescendos to a demand that these matters are left to the discretion of individual states and local school districts. Finally, the letter ends with a reminder that regardless of Title IX's application to this particular issue, LGBT students are still protected from discrimination, bullying, or harassment based on existing rules.
What does this change in policy actually mean?
It means something, but it doesn't mean everything. Of course, the position a presidential administration takes on a controversial issue is meaningful, particularly in its ability to influence the public. When the Obama administration issued its DCL, those fighting for social justice were gratified to see our government standing together with the transgender community to demand tolerance and inclusion in the face of complex and sensitive questions. In essence, the Department of Education took Gavin Grimm's hand and offered to escort him safely into the boy's bathroom. By contrast, our new DOE/DOJ said yesterday that Gavin's school district is welcome to recognize his gender identity, but that they won't be fighting for his rights if the district refuses to do so.
Yesterday the American Civil Liberties Union LGBT Project Director James Esseks issued the following statement:
"Revoking the guidance shows that the president's promise to protect LGBT rights was just empty rhetoric. But the bottom line is that this does not undo legal protections for trans students, and school districts can and must continue to protect them and all students from discrimination. School districts that recognize that should continue doing the right thing; for the rest, we'll see them in court. We will continue to fight for the rights and dignity of transgender youth, especially now that the Trump administration has decided to turn its back on them."
ACLU Senior Staff Attorney Joshua Block, who is lead counsel for Gavin Grimm at the Supreme Court in March in the case Gloucester County School Board v. G.G., said:
"While it's disappointing to see the Trump administration revoke the guidance, the administration cannot change what Title IX means. When it decided to hear Gavin Grimm's case, the Supreme Court said it would decide which interpretation of Title IX is correct, without taking any administration's guidance into consideration. We're confident that that the law is on Gavin's side and he will prevail just as he did in the Fourth Circuit."  
Although the change in policy is politically and socially significant, it doesn't legally change much. The question of whether Title IX requires deference to gender identity is one of statutory interpretation – and that job belongs to the judiciary alone. Gavin Grimm's lawsuit brings up that question, and SCOTUS has agreed to answer it. The court will do so as it does with all questions of interpretation; it will consider arguments, history, and statutory purpose. It will look to past precedent and to plain language. It will consider specific legal arguments made by litigants, and the Court alone will decide what Title IX means. If the last month has demonstrated anything, it's that courts aren't afraid to disagree with arguments put forth by the Trump administration.
And let's keep in mind that Title IX isn't the only game in town. Title IX is a federal law that prohibits discrimination on the basis of gender. But there are many other laws, at the federal, state, and local levels that could also be used to justify the legal position advocated by transgender students. Those who feel strongly about the importance of the respect for gender identity have every right to be disappointed that the current administration does not share their views. Still, the real questions about how our schools will protect transgender students are not primarily for President Trump or the DOE or the DOJ to answer. Every school district in America has full legal authority to allow Gavin Grimm to use the boys' bathroom. Every parent in America has the right to advocate such a position to his or her local district or state legislature.   The Trump administration has done nothing more than refuse to stand with Gavin Grimm – but that certainly doesn't stop anyone else (looking at you, Justice Kennedy) from doing so.
This is an opinion piece. The views expressed in this article are those of just the author.
Elura Nanos - CEO, Lawyer Up; Columnist & Host, Law & Crime