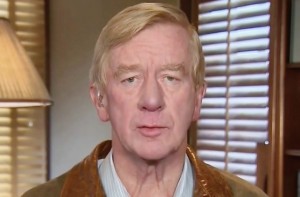 On MSNBC Tuesday afternoon, former Governor Bill Weld, who is now the vice presidential Libertarian candidate, said he didn't buy the rumors that Clinton would be indicted. In fact, he said he doesn't think there is enough evidence to hold her criminally responsible.
"I will give you one news tip," he said. "All this stuff about Secretary Clinton's use of email accounts and the report that came out,  how she might get indicted, I'm not buying it. I used to be head of the criminal division of the Justice Department of the United States." Weld served in that position from 1986 to 1988 and he also served as the United State Attorney in Massachusetts. Weld, a Republican before his affiliation with the Libertarian party, was promoted by President Reagan to the DOJ's Criminal Division.
Watch clip here:
Todd pressed Weld on why he wasn't buying the rumors.
"I'm not buying it, you can't indict somebody if there is no evidence of intent, and I don't see it, I don't see any evidence of criminal intent," Weld said.
Weld's analysis is consistent with LawNewz.com founder Dan Abrams' article earlier this year in which he wrote that there is not enough (as far as we know) to indict Clinton. However, another former DOJ official, Dan Metcalfe, recently penned an opinion piece in which he said it was 'difficult to imagine' Clinton not being indicted.
Have a tip we should know? [email protected]
Rachel Stockman - President / On Air Host