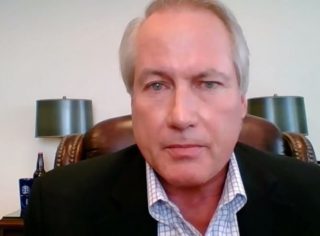 In a LawNewz.com Facebook live interview, attorney L. Lin Wood, who represents Burke Ramsey, vowed to take down CBS over their "false" documentary called "The Case Of: JonBenét Ramsey," which aired on the network earlier this week. And by take down, he is implying something bigger than what Hulk Hogan did to Gawker (you might recall Gawker was forced into bankruptcy after losing a $150 million lawsuit over Hulk Hogan's sex tape.)
"If that case was worth $150 million in the minds of a jury, when a jury hears about what CBS did and the fraud that CBS pulled for profit, and the damage they have done," Wood said. He wouldn't put a figure on the defamation lawsuit he plans to file in the next few weeks, but promises it won't be a small number.
WATCH LIN WOOD's FULL INTERVIEW HERE:
"You betcha I'm going to sue CBS. I'm going to take that company down as hard as I can because let me tell you the entire documentary is a fraud. CBS perpetrated a fraud on the viewers. There was no new investigation, their quote- un quote- experts were really just actors," Wood told LawNewz.com.
Wood has represented the Ramsey family since 1999. The family has sued more than a half a dozen publications over the years that have run with stories suggesting that the Ramsey family could be behind the beauty beauty winner's murder. The case is approaching it's 20th year and still remains unsolved.  Before she died,Wood promised JonBenet's mother, Patsy Ramsy, that he would always defend the family name
So what's he so upset about?
As we previously reported, in the CBS special, a panel of experts suggested that Ramsey, then 9, hit his sister in a fit of childish anger. They said it likely wasn't a premeditated killing, but the parents may have covered it up to protect their only surviving son. In their television investigation, former FBI profiler Jim Clemente and criminal behavioral analyst Laura Richards questioned whether the Ramsey family was telling the truth about Burke being asleep during the 911 call. They claim that the recordings indicated that John Ramsey might have been talking to a child.
"CBS reputation will be forever stained by this facade and fraud they have put out their to the public," Wood said.  Wood. He said the "so-called" investigation was based upon a self-published book from 2012 by a man who used to work for the Boulder District Attorney's office.
CBS told LawNewz.com that they are standing by their report, and plan to fight the claims in court.
Wood became famous for representing Richard Jewell, the security guard falsely accused in the Centennial Olympic Park bombing in Atlanta. He has gone on to represent several other celebrities including attorney Howard K. Stern, Herman Cain, and Dr. Phil.
Have a tip we should know? [email protected]
Rachel Stockman - President / On Air Host