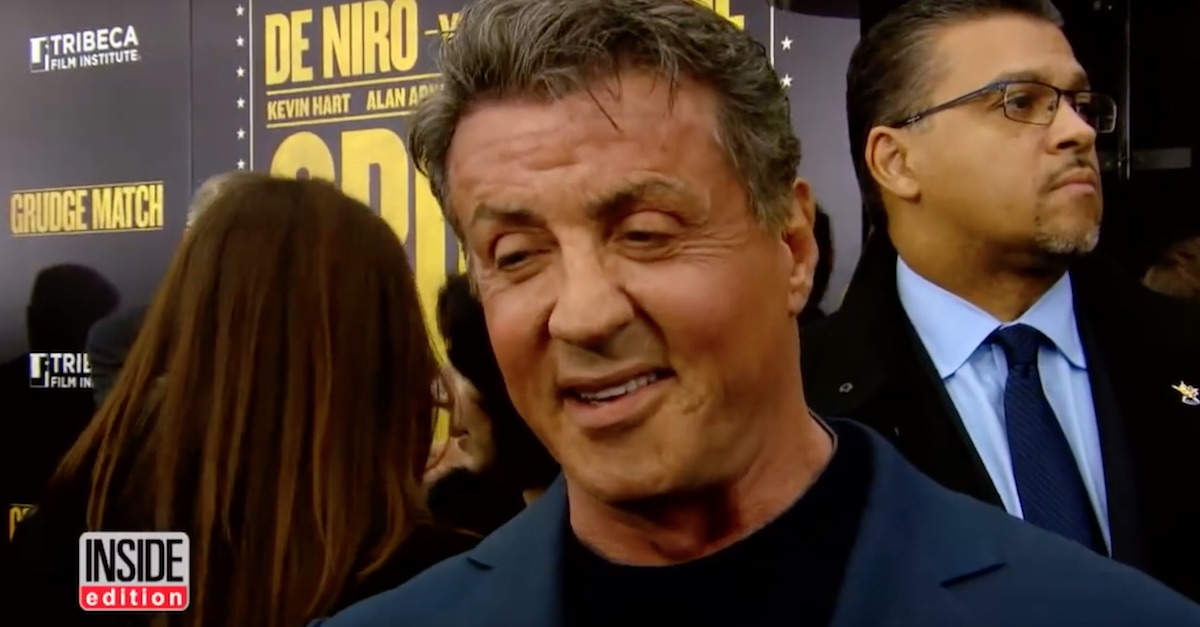 President Donald Trump marches on in his adventurous Twitter Saturday, which has covered anything from condolences to the Bush family on the day of Barbara Bush's funeral to condemnations of reporter Maggie Haberman of the The New York Times and ruling out the possibility of a Michael Cohen "flip."
This time, Trump says, he had a phone call with Hollywood star Sylvester Stallone and announced that he is considering a full pardon of boxing legend Jack Johnson, the first African-American world heavyweight boxing champion.
"Sylvester Stallone called me with the story of heavyweight boxing champion Jack Johnson. His trials and tribulations were great, his life complex and controversial," Trump said. "Others have looked at this over the years, most thought it would be done, but yes, I am considering a Full Pardon!"
While Sen. John McCain (R-Arizona) has had a posthumous pardon of Johnson (the boxer died in 1946 in a car crash) on his to-do list for years, and McCain was actually joined by Sen. Harry Reid (D-Nevada) in petitioning Barack Obama for that, it appears Trump has it in on his mind after a phone call with the "Rocky" and "Rambo" actor.
Here's what McCain wrote regarding Johnson, for instance, in 2009:
In 1912, he was arrested for violating the Mann Act, which outlawed the transportation of women across state lines for "immoral purposes."  While the law was intended to fight prostitution, prosecutors charged Mr. Johnson with violating this law when he escorted a woman of a different race across state lines. He was the first person convicted under the Mann Act. Mr. Johnson served 10 months in prison on these charges brought forward clearly to keep him away from the boxing ring where he continued to defeat his white opponents.

Less than a week after the resolution passed both chambers, we wrote to you asking that you give full consideration of Congress' request and swiftly issue a posthumous pardon for Jack Johnson.  Regrettably, we have not received a response from you or any member of your Administration.  It is our hope that you will be eager to right this wrong and erase an act of racism that sent an American citizen to prison.
Obama did not pardon Johnson, leaving the boxer's descendants "deeply disappointed."
The aforementioned Maggie Haberman, however, responded to Trump bringing up the subject of pardons and hinted that he has a different motivation for it, saying, "It's almost like there's a value right now in reminding some folks he has this power."
She wasn't the only one with a blue checkmark account to connect the same dots.
Trump's pardon tweet was sandwiched between one about the Democratic Party's recent lawsuit and one accusing fired FBI Director James Comey of breaking the law.
Just eight days ago, Trump pardoned Scooter Libby, a former George W. Bush administration official convicted for obstruction of justice.
Lawmakers like Rep. Adam Schiff (D-California) said that too was a "message to potential witnesses against Trump."
All of that aside, it is otherwise notable that Stallone responded to reports in 2016 that then-President-elect Donald Trump was considering him for the position of National Endowment for the Arts (NEA) chairman by turning that down.
"I am incredibly flattered to have been suggested to be involved with the National Endowment of the Arts," Stallone told People at the time. "However I believe I could be more effective by bringing national attention to returning military personnel in an effort to find gainful employment, suitable housing and financial assistance these heroes respectfully deserve."
Elsewhere Stallone has called Trump "a great Dickensian character."
"I don't know how that translates to running the world," he laughed.
[Image via YouTube screengrab]
Have a tip we should know? [email protected]