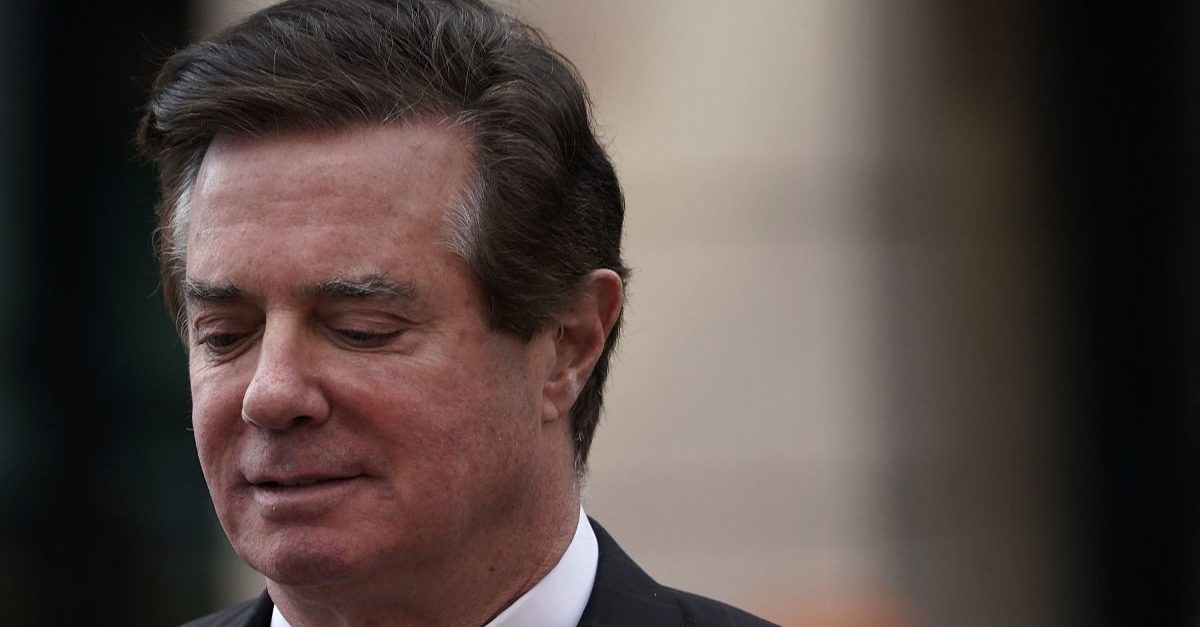 Special counsel Robert Mueller seized bank accounts at three Washington, D.C. institutions as part of his team's investigation into Paul Manafort, President Donald Trump's former campaign chair, court documents filed Thursday have revealed.
Manafort has been charged with money laundering and fraud.
The defense has asked a federal judge to provide more information about precisely how Mueller's investigators uncovered what they uncovered. Manfort's team requested the information in an attempt to determine if the warrants used to seek the information were lawful.
According to court documents, Manafort's defense team has requested "unredacted search and seizure warrant affidavits" from Mueller. Mueller has turned over a number of unredacted records, but is keeping some information secret for these reasons:
[T]he government has redacted two limited classes of information in the affidavits: the names of confidential sources who had provided information to the government, and information relating to ongoing investigations that is not at issue in either of Manafort's current prosecutions. Both justifications provide a proper basis for redaction at this stage of the proceedings.
Plus:
The remaining redactions concern information that is relevant to ongoing government investigations. That information, however, is not at issue in this prosecution and not material to the lawfulness of the warrant or otherwise material to the preparation of the defense. Redacting that information is necessary "to maintain confidentiality due to the ongoing nature of [the government's] investigation[s]."
In other words, Mueller isn't done, and he doesn't want to have to disclose publicly where he plans on going just to satisfy Manfort's defense as to information Mueller says is irrelevant to Manafort's defense.
"Because the redacted information is not material to establishing the lawfulness of the warrant, that information need not be disclosed to the defendant," the document reads.
Mueller's team says it has no problems turning over unredacted information to the judge for the judge's review only. That might assist the judge in determining whether the warrants were legal and were legally used by investigators.
The information about the seizure of the bank accounts was previously unknown. Mueller also searched Manafort's home, a storage locker, email accounts, a computer hard drive, and telephone accounts, according to an exhibit filed Thursday.
Have a tip we should know? [email protected]
Aaron Keller - Deputy Editor-in-Chief