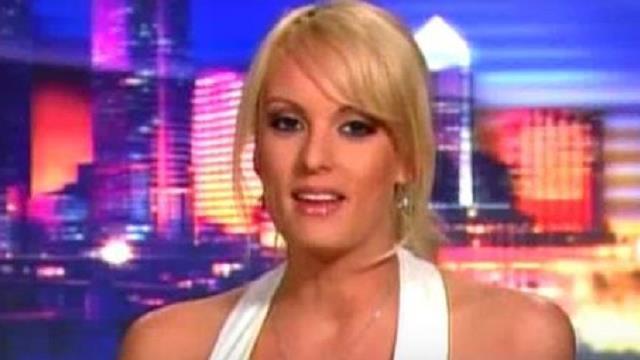 The Wall Street Journal is reporting that Team Trump paid off an adult film star to get her to clam up about an alleged sexual encounter between herself and Donald Trump back in the summer of 2006. The Journal is reporting that a $130,000 payment changed hands in exchange for Stormy Daniels, whose real name is Stephanie Clifford, to stay silent about the alleged encounter. Not surprisingly, the "deny, deny, deny" drumbeat is ricocheting off the walls, but what is interesting is the legal vehicle used here:  if the facts are true, the porn star's silence was purchased through a nondisclosure agreement, or NDA, which is essentially the new phrase for a confidentiality agreement.  A few things strike Law&Crime as interesting:
(1) It's Reportedly Not A Settlement.
Usually, when we see money changing hands after accusations surrounding sexual contact, it's a settlement.  Person A does something, Person B doesn't like it or didn't want it, and Person B sues. In other words, there's a dispute. Person A either (A) knows it happened and just wants the dispute to go away, or (B) knows it didn't happen, or didn't happen quite that way, but knows it'll cost a lot of money, damage reputations, or otherwise be hard to defend against, and just wants the dispute to go away. Money changes hands. The parties part ways, usually without any or very many steps toward a trial, and usually under an agreement not to drag one another through the mud in public or in court (the dispute has to be settled).  If the dispute continues, or someone blabs, there's usually a payback penalty written into the agreement.  The point of settlement is to end the dispute, one and for all.
Nondisclosure agreements usually are not borne out of dispute. They're usually the legal love-child of a harmonious relationship, or at least the promise of one:  an employee gets the job of her dreams, and the employer wants to make sure she knows certain things are to be kept secret.  For instance, things like recipes, inventions (prior to or sometimes separate form being patented), customer lists, draft press releases, business economic models, and the like are all frequently subject to nondisclosure agreements.  Sometimes, NDAs evolve and change with businesses. They also cover many different types of employment. It's not just research scientists who sign them. It's people who bake cupcakes, too.
Because this Trump/Porn Star agreement, assuming it exists, is reportedly not a settlement payment, it's likely that neither Trump nor the porn star were mad at one another. Someone just wanted the encounter, assuming — hypothetically — that it ever happened, to remain secret.
(2) Who Asked For The Agreement?
Usually NDAs are sought and enforced by the people who have the greater number of secrets to hide, the upper end of the power equation, or the most to lose if the secret gets loose. The Wall Street Journal says "a top attorney at the Trump Organization[] arranged payment to the woman . . . after her lawyer negotiated the nondisclosure agreement" with Trump's attorney at the time. That makes it sound like the porn star's attorney took the lead, but that doesn't make logical sense.  Would the porn star seriously be the one with the secret to protect?  Though Daniels discussed a tongue-in-cheek run for senate after another politician, David Vitter, got caught with his pants down in a prostitution scandal, and though Daniels said she "followed" politics, many would struggle to fathom an apparently vocal porn star being terrified at the thought of a presidential candidate (and self-proclaimed very, very rich man) going around talking about doing something sexual with her — at least not to the point where she'd direct her attorney to seek an NDA with Trump. If anything, such talk would increase her name recognition and, concomitantly, her Web traffic, if not play into any possible attempt to seriously seek appointed or elected office. Rather, the logical scenario would have been for Trump to seek the NDA from the porn star just to make sure either (A) she didn't blab in an attempt to profit from the alleged encounter, or (B) to prevent her from blabbing to a prying journalist as he tried to clinch a conservative nomination.
(3) How Far Would The NDA go?
NDAs oftentimes spell out what is and isn't a secret. Anything related to any purported sex act? Totally off limits; don't talk about it. Anything related to meeting Trump? Sure, you can say you met him at a social function. This would explain how the Wall Street Journal came to possess a photo of Trump and the porn star posing for a photo, which allegedly had been posted to the porn star's Myspace account.
It's even hypothetically possible the NDA might prevent anyone from disclosing the existence of the NDA itself, except to a court, should enforcement become necessary.
(4) Are NDAs Really Strict?
In a word, yes, and courts are much more apt to enforce them than they are to enforce other restrictive measures employed in the business world, at least. It's more likely for a court to say, "hey, you can't repeat that secret" than it is for a court to say, "no, you can't go to work for that business, because it's less than 250 miles away from the place where you used to work." Some courts won't enforce overbroad NDAs, which is why most attorneys like to put safe areas in them:  "you can talk about this, but not about that."
(5) What If Someone Breaks The Agreement?
Usually, the person has to pay back the money, and sometimes several fold. There are cases where a contract-breaker had to pay back double the amount of damages through so-called "liquidated damages" clauses. If an agreement between Trump and the porn star, assuming it exists, contains such a clause, the porn star might be out not $130,000, but $260,000, or maybe even more.
Daniels bragged to CNN that she earned well more than a U.S. senator as an adult film star, but still, the damages clause of an NDA could have added up to a very large loss.
Who knows. Maybe the allegations, as the parties claim, are complete hogwash, but the legal mechanism reportedly used would at least make some logical sense in this scenario, if it occurred.
[Image via CNN screen grab.]
Have a tip we should know? [email protected]
Aaron Keller - Deputy Editor-in-Chief