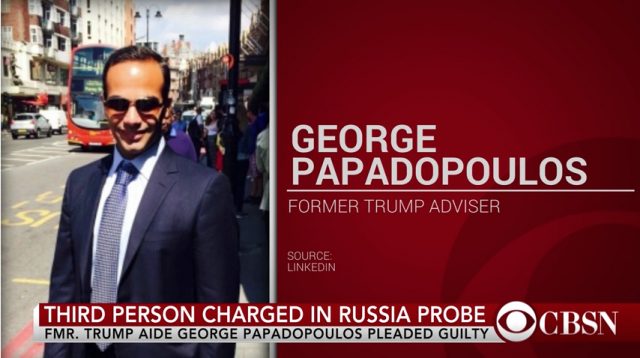 The FBI investigation into Donald Trump's 2016 presidential campaign–and the resulting special counsel investigation into possible Russian election interference–was allegedly prompted by the drunken boasts of George Papadopoulos.
A former Trump 2016 foreign policy advisor later disparaged by Trump apparatchiks as a mere "coffee boy," Papadopoulos made headlines earlier this year after he pleaded guilty to lying to the FBI.
But according to a story today in the New York Times, Papadopoulos proved a bit more instrumental within the Trump campaign than the president and his people have let on: he is said to have orchestrated a meeting between then-candidate Trump and Egyptian dictator Abdel Fattah el-Sisi; and Papadopoulos also proofread one of Trump's major foreign policy speeches.
Of perhaps lesser repute within the Trump campaign, Papadopoulos' alcohol-fueled comments were apparently the motivating factor for American law enforcement to begin their investigations into Trump and his affiliates–not the infamous and much-maligned Steele dossier, according to the New York Times.
Trump and his defenders frequently claim that the salacious Steele dossier–containing allegations that the president is fond of watersports–were the basis for the FBI's original investigation–since picked up by special counsel Robert Mueller. The FBI has consistently denied such a timeline and causal relationship, however, without publicly sharing what the motivating factor for that initial investigation actually was.
Today's New York Times article notes that in May 2016, Papadopoulos was having a big night out with Australia's top diplomat in the United Kingdom, Alexander Downer, while both men were in London. While imbibing his way toward ever looser lips at the Kensington Wine Rooms, Papadopoulos allegedly let slip that Russian officials had promised the Trump campaign dirt on Hillary Clinton.
Not much was made of the mid-level advisor's inebriated braggadocio at time–and the extent of what , but when news broke that Democratic National Committee ("DNC") emails were being leaked online, Australian officials contacted their American equivalents–and the FBI–and dished on Papadopoulos' earlier, drunken claims.
As a result, the FBI opened an inquiry into Donald Trump and people within his orbit that is plaguing the president to this day.
[image via screengrab/CBS]
Follow Colin Kalmbacher on Twitter: @colinkalmbacher
Have a tip we should know? [email protected]