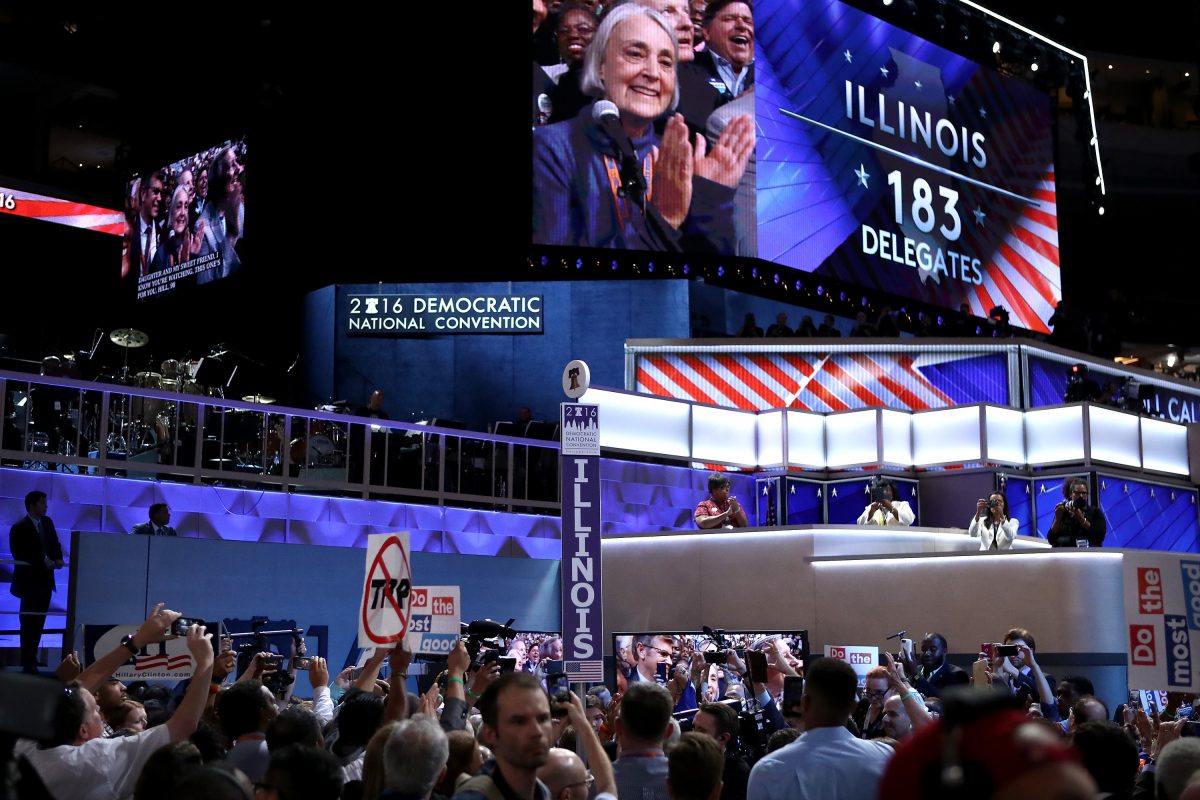 A federal lawsuit filed in Illinois late Wednesday accuses the state Democratic Party of sexual harassment, retaliation, and various Civil Rights violations.
Alaina Hampton is a former campaign worker for Illinois House Speaker Michael Madigan. In February, by way of the Chicago Tribune, Hampton accused one of Madigan's top lieutenants, Kevin Quinn, of sending her a vast array of sexually inappropriate text messages even after repeated requests that he stop doing so. Hampton alleges that the culture of sexual harassment and alleged retaliation for disclosing said culture amounted to a violation of Title VII of the Civil Rights Act of 1964."
During her interview with the Tribune, Hampton alleged an overall atmosphere of sexual harassment and a resulting hostile work environment due to both alleged action and inaction by top Democratic Party officials.
In Wednesday's filing, obtained by Law&Crime, Hampton claims that her decision to reveal Quinn's alleged improprieties and untoward behavior resulted in a campaign of retaliation against her by the Illinois Democratic Party and Friends of Michael J. Madigan, Madigan's political campaign committee. The lawsuit notes:
[Madigan's campaign committee] retaliated against Ms. Hampton for asserting her rights to be free from unlawful harassment and a sexually hostile work environment by, among other ways, failing to hire her to work as a political consultant for the 2018 campaign cycle. [Madigan's campaign committee] had no legitimate reason for failing to hire and/or allow Ms. Hampton to work as a political staffer and/or campaign manager and the stated reasons for their employment actions were pretexts to hide unlawful employment actions…
According to the lawsuit, Alaina Hampton worked on various successful campaigns for various Illinois Democrats from 2012 through 2017. A longtime political operative, Hampton's duties were consistently praised and rewarded by high-ranking and powerful officials with the state Democratic Party–which utilized her services and apparent political organizing talents in various roles until sometime around mid-2017.
Around that time, however, Kevin Quinn became Hampton's supervisor. The lawsuit continues, "Beginning in or around August, 2016, Kevin Quinn began to subject Ms. Hampton to severe and pervasive sexual harassment by pursuing Ms. Hampton to have a romantic and sexual relationship with him." The suit alleges that Quinn's behavior, largely expressed via text messages, was never reciprocated but persisted until sometime in February 2017.
The lawsuit contains some 75-plus pages of text messages between Quinn and Hampton. Most of those messages appear to have been sent late at night. In one text message, Quinn describes Hampton as "smoking hot." In various messages, Quinn asks Hampton to go out on dates with him. As the lawsuit notes, at all times during this alleged behavior, Kevin Quinn was "married with children."
Eventually, after five months of alleged harassment, Hampton began alerting officials. First, Hampton went to Kevin Quinn's brother, Alderman Marty Quinn–in February 2017. According to the lawsuit, nothing was done. Then, in November 2017, Hampton went to Madigan. The lawsuit alleges that Madigan also failed to act to correct his subordinate's behavior. Instead, an "investigation" was promised.
Later, Hampton's claims were apparently ridiculed and dismissed by Heather Wier Vaught, an attorney for Madigan and Illinois Democrats. Vaught and others then allegedly promised to work with Hampton on finding her additional campaign work–but this never occurred. Hampton maintains she was lied to about why these alleged work offers never materialized and accuses Madigan and Illinois Democrats of retaliating against her.
Vaught responded to the Chicago Tribune's requests with no comment. Additionally, a voicemail left with the Illinois Democratic Party by Law&Crime went unanswered. This space will be updated if and when a response is received.
Aside from Hampton's own experiences, the filing also claims "[Madigan's campaign committee], the Democratic Majority and the 13th Ward Democratic Organization, have ignored and/or disregarded other reports of sexual harassment of female employees and volunteers working for [Madigan's campaign committee]."
Hampton's lawsuit also notes that it was filed more or less simultaneously with another set of complaints filed against Madigan's campaign committee and the Democratic Party of Illinois with the Equal Employment Opportunity Commission ("EEOC"). The EEOC complaints are attached in full as exhibits to the present suit.
Hampton is suing for $350,000 plus attorney's fees.
[image by Jessica Kourkounis/Getty Images)]
Follow Colin Kalmbacher on Twitter: @colinkalmbacher
Editor's note: This article was amended after publication to include Vaught's "no comment" posture as provided to the Chicago Tribune as well as Law&Crime's attempt to contact the Illinois Democratic Party.
Have a tip we should know? [email protected]