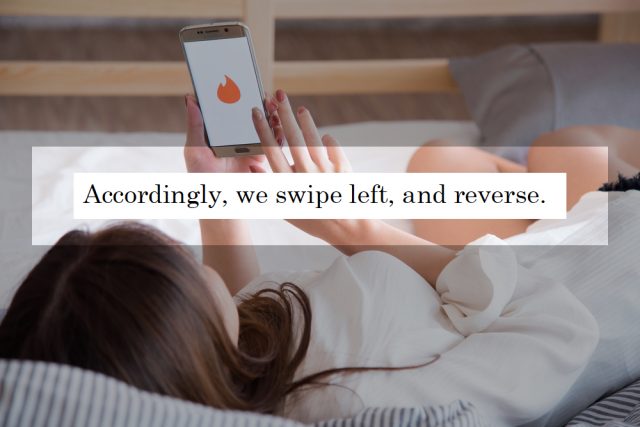 Tinder, Inc. can no longer charge older users more than they charge younger users for some of the company's premium services, a California appeals court ruled on Monday.
Three judges with the Los Angeles Superior Court reversed an earlier trial court ruling which allowed Tinder, Inc. to charge consumers over the age of 30 $19.99 per month for Tinder Plus while charging users under the age of 30 $14.99 or $9.99 per month for the premium features associated with Tinder Plus.
The court's decision, penned by Judge Brian S. Currey, begins with an efficient summary of how the Tinder app works. Currey writes, for the court, "The original app began, and is still offered, as a free online dating service. It presents users with photos of potential dates. The user can swipe right to express approval, or swipe left to express disapproval."
Tinder's vice president of corporate communications, Rosette Pambakian, explained the company's motivation for the age-based pricing discrepancy. Cited in the court's decision, Pambakian's email reads:
During our testing we've learned, not surprisingly, that younger users are just as excited about Tinder Plus, but are more budget constrained, and need a lower price to pull the trigger.
The court rejected this argument as "arbitrary age-based price discrimination." In finding for the plaintiffs, the court noted at least two violations of: (1) California's Unruh Civil Rights Act—which prohibits age-based discrimination; and (2) California's Unfair Competition Law—which prohibits "unlawful" and "unfair" business practices (here, the practice of age discrimination.)
The court continued:
We conclude the discriminatory pricing model, as alleged, violates the Unruh Act and the UCL to the extent it employs an arbitrary, class-based, generalization about older users' incomes as a basis for charging them more than younger users. Because nothing in the complaint suggests there is a strong public policy that justifies the alleged discriminatory pricing, the trial court erred…
The final line of Currey's introduction employs the literary device known as bringing-it-all-back-home.
He writes, "Accordingly, we swipe left, and reverse."
[image via Teerawit Chankowet/shutterstock.com/screengrab/LA Superior Court]
Follow Colin Kalmbacher on Twitter: @colinkalmbacher
Have a tip we should know? [email protected]