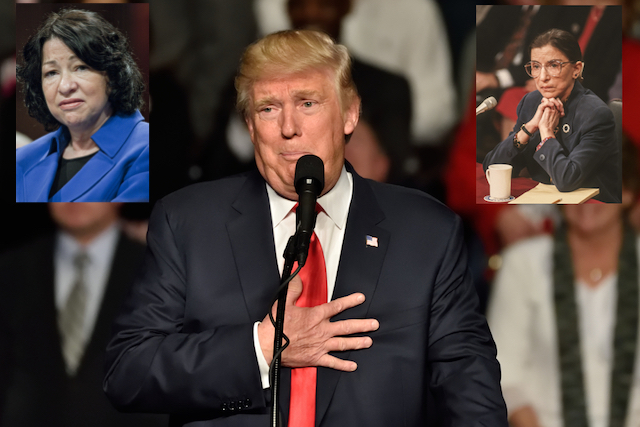 President Donald Trump believes he'll make an additional three appointments to the Supreme Court of the United States ("SCOTUS") largely due to the supposedly declining health of the two female Justices.
According to an Axios story published early on Sunday night, the president isn't joking about his prediction that he'll ultimately be able to appoint a total of four Supreme Court Justices by the end of his first term in office.
In Jonathan Swan's account, "Scoop: Trump privately predicts he will appoint four justices," unnamed sources–who have apparently spoken with the president about his intentions for the Supreme Court–pushed back against the somewhat outrageous claim.
Trump apparently began by counting the one Justice he's already appointed–Neil Gorsuch–who replaced Antonin Scalia after the long-serving conservative died while on a hunting trip in Texas.
Then, the president cited rumors that Anthony Kennedy–appointed by President Ronald Reagan–was planning to retire soon. Kennedy's potential retirement quite feasibly gets the count up to two appointments. The source is then said to have asked Trump where the others would realistically come from. That's when Trump allegedly mocked Justices Ruth Bader Ginsburg and Sonia Sotomayor.
The discussion apparently went as follows:
Source: "Okay, so that's two. Who are the others?"
Trump: "Ginsburg, What does she weigh? 60 pounds?"
Justice Ginsburg is 84-years-old and has served on the nation's top court since 1993, when she was appointed by President Bill Clinton after previously serving on the U.S. Court of Appeals for the District of Columbia Circuit for 13 years. Ginsburg successfully fought back against a cancer scare in 2009. Her exercise regimen is said to be quite "fierce" and she has no plans to retire any time soon.
Ginsburg's retirement, however, does remain in the realm of feasibility.
As for the fourth possible Trump appointee? Well, Swan's source asked that as well. And Trump certainly provided. Here's how that portion of the conversation went:
Source: "Who's the fourth?
Trump: "Sotomayor. Her health. No good. Diabetes."
Justice Sotomayor was appointed to the high court in 2009 by President Barack Obama. Sotomayor's name doesn't ever really come up in discussions as to potential retirements or openings on the bench.
Sotomayor has been open about her lifetime of living with type-1 diabetes, however, the first Latinx Justice has never said her condition inhibits her work and has certainly never suggested she might retire because of health concerns any time in the near future.
Despite the curious nature of Trump's final pick, the president is apparently convinced he'll leave office by making a substantial impact on the SCOTUS. According to one of the sources relied upon for this story, "It's all about the numbers for him."
[image via Shutterstock.com]
Follow Colin Kalmbacher on Twitter: @colinkalmbacher
Have a tip we should know? [email protected]