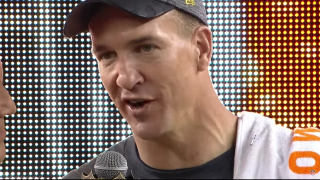 Tony Iliakostas is a recent New York Law School grad and contributor for LawNewz.com. The following is his analysis on the recent legal troubles concerning Peyton Manning.
Approximately two weeks ago, Peyton Manning joined his fellow Broncos teammates hoisting the Lombardi Trophy after defeating the Carolina Panthers in Super Bowl 50. Peyton Manning also set the record as the oldest QB to win a Super Bowl. This season, Manning was plagued by injury, and while he didn't have the most decent stats during the 2015 season, his veteran presence during the playoffs created a momentum in the Broncos locker room that led them all the way to the Super Bowl and ultimately earned them a win. This is Manning's second Super Bowl win in his career. Many speculate that Manning is set to retire soon and perhaps this Super Bowl win would be the best way for him to hang up his cleats.
In spite of his enormous success during his NFL career, his name has been making the news for very unfortunate reasons. We are all too familiar with the allegations made against him by Al Jazeera when they alleged (or implied, at least) that Peyton Manning received human growth hormone, which was addressed to his wife Ashley Manning by the Guyer Clinic, an anti-aging clinic he visited to treat his neck injury during the 2011 NFL season. The NFL is investigating the truth behind this claim. But last week, Shaun King of the New York Daily News posted a very powerful piece about a sexual assault allegation against Manning while he was a student at the University of Tennessee. King's piece was published shortly after news broke that a Title IX lawsuit was filed against the University of Tennessee. Multiple women brought this Title IX lawsuit against the school, alleging that a "hostile sexual environment" created by UT football and basketball players who assaulted and raped multiple female students. The lawsuit further alleges that the university took no action to prevent these actions from taking place. In this Title IX lawsuit, however, Manning's alleged sexual assault against a female team trainer was cited, which made people wonder how this could be.
The NY Daily News' Shaun King filled in the holes and made us wonder if Peyton Manning was indeed a "good guy" or if Manning has been hiding behind a veil of secrecy this entire time. As King documents for us, the allegation is that Peyton Manning pulled his pants down and forcibly placed his genitals on UT's football trainer Dr. Jamie Naughright. Not only was this allegation laughed at and denied by Manning, but another associate trainer at UT, Mike Rollo, defended Manning, saying that he was just mooning another teammate, Malcolm Saxon, and that Naughbright just happened to move her head in such a way that she made contact with Manning's genitalia. However, according to King's Daily News piece, Saxon wrote a letter to Peyton Manning in December 2002 that he had nothing to hide and that Manning "messed up" by covering this assault up.  Saxon added that the incident may have been intentional or not but that his actions were "inappropriate."
The incident between Manning and Naughbright was eventually settled and bound by a confidentiality agreement, which Peyton breached when he and his dad Archie published the book "The Mannings." They made a reference to this sexual assault allegation and bad-mouthed Jamie Naughright, ultimately leading to a defamation suit that she brought against the Mannings. The facts of the case that Naughright filed contains more details about the alleged sexual assault by Peyton Manning and how the Mannings' writing of their book prevented her from seeking employment outside of UT. The details are quite graphic and disturbing too. This defamation suit between the Mannings and Naughright ended in a settlement in 2003.
The clock has run out for any criminal prosecution against Peyton Manning. As the Tennessee Code lays out for us, the Statute of Limitations on a sexual assault case like this is usually 2 to 4 years. It's been almost 20 years since this incident was first reported. However, one can't help but wonder how something like this could have been hidden in secrecy for so many years. Of course, this was in the days pre-dating social media. If this happened today, it would spread like wildfire. But if the facts that Jamie Naughright alleged are indeed truthful, how could somebody who was clearly criminally culpable get away with it? As Shaun King put it best, he was the "savior of Tennessee football" and his word had more substance than hers.
While there was a settlement between Manning and Naughright following this sexual assault allegation, it makes you wonder why Naughright was not more insistent on pressing charges against Manning. I think the shorthand answer is that sexual assault cases have historically been "he said, she said" cases. Even though the prosecution is proving the case beyond a reasonable doubt on behalf of the victim, the victim still has an undue burden placed on her to show that certain specific events happened when the assault against her occurred. What further amplifies the difficulty of these cases is that there are usually no witnesses around when a sexual assault happens. Yet, with this incident between Manning and Naughright, you have Malcolm Saxon not only stating that Manning never mooned him but there's even evidence of a letter he wrote to Peyton Manning begging him to tell the truth. There is also evidence in the "Facts of the Case" document showing a completely hostile work environment at UT, which lends credibility to Naughright's claim of how she was virtually out-casted and the school did nothing to remedy the situation. In my opinion, this was a slam-dunk criminal case and it's a shame that further action was not taken against Manning.
So what's next for Manning? No doubt, he's going to have to come forward to address these allegations, whether he vehemently denies it or confesses to them. The allegations that he used HGH were not damning to his image and reputation, but news of this sexual assault surely may make him think twice about walking back on the football field, especially since the NFL has a huge domestic violence problem that it perpetually fails to address. If there turns out to be any truth to these claims, I would expect Manning to take a hit, maybe a loss of a sponsorship. There have also been murmurs around the league that Manning may work in an NFL front office or become a TV commentator. I think this allegation will dub down any chance of that happening, at least in the interim.
This is certainly hard to fathom because of how enormously successful and professional Manning has been during his 19 years in the NFL. At the same time, we should not be Peyton Manning apologists and be quick to push this to the side. Right now, based on what evidence has been presented in front of me, I think Peyton Manning has some explaining to do.
Tony Iliakostas is a sports law contributor for LawNewz. He is the founder and host of his own sports law video blog called "Law and Batting Order." You can follow Law and Batting Order on Facebook and Twitter, and you can follow Tony on Twitter.
[screengrab via NFL on CBS]
Have a tip we should know? [email protected]