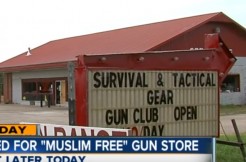 Raja'ee Fatihah is suing the gun range that allegedly turned him away after he said he was a Muslim. The federal lawsuit, filed Wednesday in U.S. District Court, is aimed at the owners of Save Yourself Survival and Tactical Gun Range in Oktaha, Oklahoma.
The defense lawyer in this case, Robert Muise, told the Associated Press that Fatihah was turned away because he was antagonistic, not because he practiced Islam. That excuse might not convince a jury.
"Defendants run an explicitly segregated business," the suit states. "A sign posted on their business's front window announces that Muslims are not permitted at Defendants' stores and gun range."
Now this last detail is true. There is a "Muslim free" sign on the gun range premises, or at least there used to be. Here's what it read, as of a 2015 report by Fox 13 in Salt Lake City: "This privately owned business is a Muslim free establishment. We reserve the right to refuse service to anyone. Thank you."
There was local outrage because of the sign, but store co-owner and suit co-defendant Chad Neal doubled down on it at the time.
"We do not want to have any jihadis training on our gun range and then going down to our local armed services office and having better marksmanship than they showed up with," Neal told the Tulsa World in 2015. "I've seen what Muslims and jihadis do to people. It's just not going to happen in my store."
Neal is an Iraq War vet, while Fatihah is a U.S. Army Reservist, and used to be a public liaison for the University of Oklahoma Police Department.
Fatihah's suit claims the purported policy violates the Civil Rights Act of 1964 and Oklahoma law. He's suing for damages, court costs, and to make the defendants stop their reported discriminatory policy.
[h/t Fox 13]
[image via KJRH-TV screengrab]
–
Follow Alberto Luperon on Twitter (@Alberto Luperon)
Have a tip we should know? [email protected]